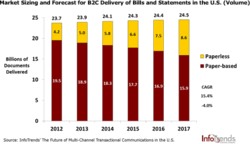 It is critical for providers to have a multi-channel communications strategy that optimizes print and electronic channels.
Weymouth, MA (PRWEB) June 06, 2013
The transactional communications market—including bills, statements, legal notices, letters, payment due reminders, and confirmations—continues to evolve due to changes in consumer behaviors, business policies, as well as advancements in technologies and services. In addition to its ongoing coverage, InfoTrends has spent the last five months exploring this market to understand how bill and statement providers, service bureaus, technology vendors, and other key stakeholders can keep pace with a rapidly evolving market that is becoming increasingly digitally-oriented.
As a result of 2,025 consumer surveys, 267 business surveys, and more than 20 in-depth interviews with key stakeholders in the transactional communications value chain, InfoTrends expects that 8.6 billion bills and statements (35%) delivered to consumers in the U.S. will be paperless in 2017.
"Bills and statements are opened and read more than any other business communication," commented study director Matt Swain. "As consumers increasingly interact with their providers on the Web, via mobile apps, through e-mail attachments, and using consolidated channels, it is critical for providers to have a multi-channel communications strategy that optimizes print and electronic channels."
Study objectives for The Future of Multi-Channel Transactional Communications in the U.S. include:

Pinpointing behavioral and attitudinal shifts among consumers
Identifying business strategy shifts within key vertical markets
Supplying an overview of key providers in the network
Sizing the business-to-consumer delivery market and forecasting its growth through 2017
Providing alternative scenarios and strategy recommendations
Click here to view some of the recommendations that came out of the study.
For more information, please visit our online store or contact Scott Phinney at
+1 781 616 2123 or scott.phinney(at)infotrends(dot)com.
InfoTrends, a Questex company, is the leading worldwide market research and strategic consulting firm for the digital imaging and document solutions industry. We provide research, analysis, forecasts, and advice to help clients understand market trends, identify opportunities, and develop strategies to grow their businesses. Additional information about InfoTrends is available on the Web at http://www.infotrends.com.
For media inquiries contact Donna O'Malley at +1 781 616 2116 or email donna.omalley(at)infotrends(dot)com.