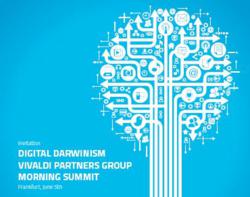 The Vivaldi Summit really explored how consumer behavior is changing in light of new technologies and how companies can respond.
Frankfurt, Germany (PRWEB) June 06, 2013
Vivaldi Partners Group, a strategic consulting firm that includes a digital and technology agency, kicked off Manager Meeting Europe on June 5th with a morning summit on Digital Darwinism. As a leader in innovation and growth strategy consulting, Vivaldi Partners Group recognized the importance of the new digital and social environment that consumers face today. To that end, Vivaldi Partners Group researched Social Currency for the past several years to see how it can help brands and businesses. Often brands find radical change is required in adapting the systems, structures and business models. The selection process of Digital Darwinism will radically split businesses into incumbents and challengers – into winners and losers.
The Digital Darwinism summit addressed how companies can face these challenges and succeed in this new digital landscape. During the event, CEOs and thought leaders spoke about what marketers need to succeed and if they are prepared to execute a rapid digital transformation.
Karl-Heinz Land, author of "Digital Darwinism", spoke on how new digital technologies create revolutionary threats on current business models and Andreas Geissler, CEO of Teradata, talked about the unlimited possibilities of capitalizing on big data. Both gave a compelling outlook on what the digital future will look like.
Afterwards, two CEOs delivered very concrete take-aways on how to succeed in this rapidly changing environment.
Dr. Martin Enderle, CEO of Scout24 and SVP Digital Services Deutsche Telekom, explained how companies must evolve from providing pure online content to full customer experiences around life episodes. He highlighted the three most important success factors to succeed.
Philip Rooke, CEO of Spreadshirt, spoke about the DNA that is necessary for a business to succeed in the fast paced digital world. This DNA is made up of the people and the knowledge in an organization and has to be developed continuously and quickly.
A panel discussion with Vivaldi Partners Group Founder and CEO Erich Joachimsthaler and all the speakers was moderated by Christoph Berdi, the former editor in chief of Absatzwirtschaft. The panelists engaged in a vivid discussion around diverse issues such as first-mover advantage, digitalization in B2B Marketing and the changing relationships between brands and consumers as described by Social Currency.
"I was thrilled to be a part of this event to talk about a topic that I believe is important to every brand's survival – the changes that digital brings to brands," said Joachimsthaler. "The Vivaldi Summit really explored how consumer behavior is changing in light of new technologies and how companies can respond."
An executive summary, presentations, and video from the event will be available online at the Digital Darwinism website in the coming days: http://vivaldipartners.com/digitaldarwinism. Other events from Vivaldi Partners Group can be found at: http://vivaldipartners.com/events/upcoming.
About Vivaldi Partners Group
Vivaldi Partners Group (http://www.vivaldipartners.com) is a global firm that unlocks innovation and growth opportunities for brands and businesses in a digitally connected world. Vivaldi Partners Group uses its expertise in strategy, innovation, marketing, and organization to identify new demand-based opportunities, build strong brands, create and realize engaging experiences, and lead change through the development of people. Vivaldi Partners Group comprises of Vivaldi Partners, Fifth Season, a digital, design and technology agency, and E-Edge.