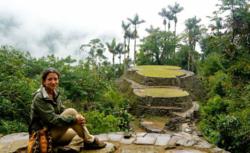 (PRWEB) June 06, 2013
Viventura has introduced a travel blog to its site by sponsoring travel blogger Bianca Bauza to chronicle her South America travel adventures. The blog will offer would-be travelers a closer look at the destinations Viventura offers, the company announced today.
Bauza will be traveling around South America collecting stories and travel tips and passing them along in her blog posts. Showcasing the South America culture and countryside through her stunning photographs and well-crafted words Bianca hopes to bring the locations alive to South America enthusiasts.
"I like to inspire through my images to let readers know about the beautiful diversity of the South American continent and hopefully they'll want to visit sometime or maybe reminisce about their own visits here," Bauza said.
Viventura CEO Andre Kiwitz said Bauza was a perfect fit for the Viventura blog because of her nomadic spirit, enthusiasm for adventure and love of South America.
"Bianca captures the essence of the real South America; the people, places and activities that really make a trip memorable. We try to present that to our travelers when they book a Viventura South American vacation and Bianca presents that with her blog so we're excited to bring her on as our official blogger," Kiwitz said.
Bauza grew up in Venezuela and later moved to Montreal, Canada to attend college. Later, she relocated to Spain where she worked in sales and marketing until a shift in her personal circumstances gave her the impetus to travel. She started blogging to keep friends and family updated on her journey and her blog eventually blossomed.
As a blogger for Viventura she's already danced in the biggest carnival parade in Barranquilla, Colombia, trekked through the jungle of the Sierra Nevada to find the Lost City, witnessed the majestic Perito Moreno glacier in Patagonia, and marveled at Fitz Roy at sunrise. She's also climbed an active volcano in Pucón, Chile, perused street art in Buenos Aires and Santiago and happened upon the Bolivian Tinku dance. Yet, she said she knows still more adventure awaits.
Next on her itinerary is a trip to the Atacama Desert, the driest place in the world and a popular destination for many travelers planning their South American vacations.
"I'm hoping to see some geysers, watch the sunset over the Moon Valley, photograph some flamingos in their natural habitat, and maybe do some sand boarding," she said.
She'll then be crossing to Bolivia to see the famous Salar de Uyuni, visit the Titicaca Lake, bike down the world's most dangerous road in La Paz, admire some of the culture in the cities and small towns and hopefully see some pink dolphins. From there, she'll continue her journey to Peru, Ecuador, Brazil and Venezuela.
To learn more about Bauza's travels, visit the Viventura travel blog.
About Viventura
Founded in Germany in 2001 Viventura provides high quality South America travel experiences to more than 2,000 travelers a year. Its signature Learn from a Local program allows travelers to try an experience that is specific to the region they are visiting. Catering to travelers wanting a mix of activities and destinations Viventura tours highlight some of the best tourist attractions as well as some of the lesser known, more cultural experiences.
Visit today to set up a South America tour with Viventura.