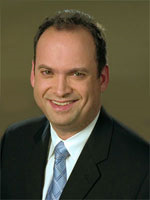 Newark, NJ (PRWEB) June 10, 2013
New Jersey mesothelioma lawyer Moshe Maimon has recently been named a "2013 Top Rated Lawyer in Mass Torts Law" by American Lawyer Media and Martindale-Hubbell. Mr. Maimon's selection is based on his AV preeminent peer-review rating in the area of Mass Torts*, which is the highest rating for both legal ability and ethical standards. Mr. Maimon, a partner at the national plaintiff's asbestos law firm Levy Konigsberg LLP ("LK"), has earned a national reputation in mass torts law, most notably in representing people diagnosed with mesothelioma, lung cancer, and asbestosis.
Born and raised in Washington State, Mr. Maimon moved to New York and attended Brooklyn Law School. As a law student, Mr. Maimon was already assisting in the representation of victims of asbestos exposure and he began successfully trying asbestos cases almost immediately after obtaining his law license in 1986. Over the past 25 years, Mr. Maimon has some of the most impressive jury verdicts in the history of asbestos litigation.
In a New Jersey mesothelioma case**, Mr. Maimon obtained a verdict of $30.3 million on behalf of an advertising executive who had been exposed to asbestos-containing auto parts decades earlier. That verdict still stands as the largest compensatory damages verdict ever upheld in the history of asbestos litigation.
In another New Jersey mesothelioma lawsuit***, Mr. Maimon won a historic verdict against Exxon-Mobil for "second-hand" asbestos exposure that caused a woman to get mesothelioma due to her laundering of her husband's contaminated work clothing worn home from an oil refinery. The judgment of almost $10 million in that case was an important legal decision for protecting the rights of family members exposed to asbestos brought home from the workplace. Mr. Maimon has also obtained some of the highest jury verdicts in New York City mesothelioma cases, including a $47.15 million verdict**** on behalf of four clients diagnosed with mesothelioma.
Known for his innovative legal strategies, Mr. Maimon was the first lawyer to win a mesothelioma case against R.T. Vanderbilt*****, the largest supplier of industrial talc in the United States. Mr. Maimon proved that this company's talc was contaminated with asbestos and that his client, who developed mesothelioma, contracted the disease as the result of his exposure to the asbestos-contaminated talc.
Mr. Maimon has also been successful in other areas of the law, obtaining a verdict of $7 million in a commercial litigation case****** involving breach of fiduciary duty and winning important legal rulings in class action litigation involving ERISA plans.
Mr. Maimon also regularly presents on his specialized knowledge in asbestos cases to other lawyers at national conferences. Most recently, he shared his insights and skills in jury selection with hundreds of lawyers at the New Jersey Association of Justice Conference.
If you or a loved has been diagnosed with mesothelioma, lung cancer or another disease caused by asbestos exposure, you can speak to New Jersey mesothelioma lawyer Moshe Maimon by contacting LK's national asbestos hotline at 1-800-637-6529 or by completing an electronic submission at http://www.levylaw.com.

Martindale.com/Moshe-Maimon/483205-lawyer.htm;
** Susan Buttitta as executrix of the estate of Mark Buttitta v. Asbestos Corp., et al., No. BER-L-9592-02 (N.J. Super., Bergen Vicinage);
*** Bonnie Anderson and John R. Anderson vs. Exxon Mobil Corporation et al., No. A-5892-07T1 (N.J. Super. App. Div.);
**** In re: New York Asbestos Litigation, 847 F.Supp. 1086 (S.P.N.Y., 1994);
***** Bonnie L. Parker, individually and as Executrix and the Executrix ad Prosequendum of the Estate of Peter Stanley Hirsch vs R.T. Vanderbilt Company, Inc, et al., MID-L-2706-03AS (N.J. Super, Middlesex County);
****** Joseph Bamira v. Parker Chapin Flattau & Klimpl, LLP et al., No. 06-604256 (NY City Civ Ct).