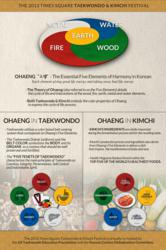 The promoted theme of harmony and balance imposes an attractive surrogate of a healthier well-being that has been preserved by Korea throughout their extensive history.
New York, NY (PRWEB) June 06, 2013
The US Taekwondo Education Foundation and the Korean Cuisine Globalization Committee proudly announces that the their annually co-hosted Taekwondo & Kimchi Festival will be held on June 7, 2013 from 10:00 AM to 3:00 PM (Eastern Time) in Times Square 47th Street-which is also heralded as "The Center of the Universe". The 2013 Times Square Teakwondo and Kimchi Festival's concept is entitled as "The Harmony of Soul and the Balance of Body".
The co-hosts are preparing an unprecedented demonstration that unites South Korea's two most iconic exports; Taekwondo and Kimchi. Both Taekwondo and Kimchi are collectively gaining interest and rising in appeal on a global scale. Taekwondo has been a regularly featured competition in the Summer Olympics since 1988 and it has been a popularly adopted form of martial arts worldwide. Korea's favorite dish, Kimchi has also been enjoying a similar success and popularity through its exposure in featured restaurants located across major metropolitan cities across the United States. This year's Korean festival is promoting the oriental philosophy of "Ohaeng" to western audiences in an effort to provide greater insight of Taekwondo and Kimchi's conceptualization and traditional roots.
The desired objective of "The Harmony of Soul and the Balance of Body" is to emphasize the health benefits associated with Korean culture through the idea of Ohaeng (or also referred to as the Five Elements). The Korean philosophy of Ohaeng entails that the elements of fire, earth, metal, water and wood are interconnected properties that must be delicately balanced in order to achieve a healthy sense of harmony. The Korean festival in Times Square reveals that the traditional values of Taekwondo and Kimchi are closely related to Ohaeng and credits Ohaeng's influence as a major indicator of how both products are beneficial to health and wellbeing.
Interestingly the Korean Festival of Times Square also describes the colors of Ohaeng in relation to its elements, in order to produce a visual understanding of the foreign concept. Ohaeng's elements are associated with several primary colors; fire as red, earth as yellow, metal as white, water as blue and wood as green. The color representation of Ohaeng serves as an illustrative depiction of how Ohaeng works in nature and in functionality. One of the exemplifying characterization of Ohaeng and its colors is the belt color system that is associated with Taekwondo. The Korean martial arts utilizes all the colors of the Five elements (in the sequence of white, yellow, green, blue, red) in order to produce the balanced and cyclical effect that is described by the Korean Ohaeng philosophy.
The event's co-sponsor, Korean Cuisine Globalization Committee, is a non-profit organization of Korean Restaurant & related businesses in East coast of the U.S. that are formed to introduce & globalize the outstanding characteristic of healthy Korean Cuisine. The committee initially focused their attention on promoting traditional fermented Korean dishes such as Kimchi by emphasizing its unique taste and numerous health benefits to western audiences. Today, Korea's favorite fermented dish has garnered global praise from culinary icons such as celebrity chefs to renowned food critics. Bobby Flay, Tyler Florence, Chuck Hughes and Jean-Georges Vongerichten have all publicly expressed their delight in Kimchi while contributing applications of how Kimchi can be used in preparing westernized dishes. Julia Moskin of The New York Times, mentions aged Kimchi in her top "10 Food Trends of 2013". Moskin complements the long-term bacterial activity and likens Kimchi's fermentation to a culinary artisanship.
Kimchi is known to have a healthy bacteria called lactobacilli, which results from Kimchi's extensive fermentation process. The lactobacilli bacteria aids digestion and is also present in other diet focused foods such as yogurt. Many of Kimchi's primary ingredients such as napa cabbage and chili pepper, contains very high concentrations of vitamins and nutrients (particularly vitamin C). Research indicates that consuming Kimchi can enhance the immune system's effectiveness, improve the health of skin, helps preserve memory and it also contains cancer preventive properties.
The 2013 Times Square Taekwondo & Kimchi Festival is expected to be an inspiring event that provides visitors a magnificent opportunity to indulge in the cultural offerings that hails from the Korean peninsula. The Ohaeng concept is a fascinating one that exposes a novel ideology to the crowds of New York City. Nonetheless, the promoted theme of harmony and balance imposes an attractive surrogate of a healthier well-being that has been preserved by Korea throughout their extensive history.
It is anticipated that an array of demonstration events for Taekwondo and Kimchi will be scheduled for guests to enjoy. View the spectacular high flying and dynamic motions of Taekwondo performed by over 800 Taekwondo students. The Taekwondo participants will be provided with lunch box accommodations consisting of sponsor supported main dishes such as Kimchi Rice, Bulgogi, and Kimchi Soon Tofu. The event will also feature a Kimchi making demonstration that details the extensive process of how Kimchi's ingredients are prepared and fermented. Furthermore the event will hold an exhibition where a gigantic Kimchi Bibimbap is assembled live and it is expected that a thousand servings will be prepared for the crowds to sample. We invite guests from all over the world to participate and contribute towards a better well-being at The 2013 Times Square Taekwondo & Kimchi Festival's "The Harmony of Soul and the Balance of Body".
Our proud sponsoring partners include SB GROUPE, Kang Suh, BCD Tofu House, San Soo Gap San (삼수갑산), Kum Gang San (금강산), Ham Ji Bach (함지박), Food Gallery 32, East Seafood Restaurant (동해수산), Kunjip (큰집), and Su Ra Chung (수라청).