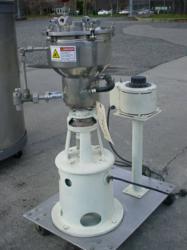 Wohl Associates recognizes the need to treat each customer on an individual basis and we are certain that you will be rewarded with professional and favorable results.
Bohemia, NY (PRWEB) June 06, 2013
Wohl Associates, a trusted leader in the used processing and packaging machinery industry, is currently selling several different used colloid mills that were manufactured by Greerco.
Wohl currently has one Gifford-Wood MV-6 high speed colloid mill for sale. This is a vertical colloid mill that is manufactured from stainless steel. The product hopper is a pressurized hopper and there is also a stainless steel jacket on this machine.
This colloid mill features a bottom-drive dispersion blade with a variable speed control. The machine is mounted onto a solid base that has 4 wheels which allow the colloid mill to be easily moved. The machine is powered by a 3 phase 60 cycle motor.
Wohl Associates also has several Greerco horizontal colloid mills in their used machine inventory. At the top of the list is a Greerco Model W500H horizontal inline colloid mill. This machine has a 10 horsepower, 3 phase, 60 cycle motor that is built to be explosion proof.
The W500H is operated via a push button starter box that was manufactured by Allen Bradley. This colloid mill is also mounted onto a base with 4 wheels in order to allow for portability.
Other Greerco colloid mills that can be purchased through Wohl Associates include the W750H, W500V vertical mill, W250V (2 hp, explosion proof), W-200, as well as other models by the same manufacturer.
Wohl Associates has been a supplier of used processing and packaging machinery for more than 40 years. They believe in offering reliable equipment, exceptional customer service, and invaluable knowledge to a variety of companies in the processing and packaging industries. Their used inventory of industrial cartoners, jacketed kettles, pharmaceutical equipment, coffee roasters and other equipment, provides companies with an economical solution when the time comes for expansion.
About Wohl Associates
Wohl Associates is a leading dealer in the used processing and packaging machinery industry. With a history and solid reputation spanning over 40 years, they have earned the trust of their clients by offering quality pre-owned equipment, expert customer service and invaluable knowledge to their customers. They treat each customer on an individual basis and customers are provided the highest level of service. With a large inventory including cartoners, ribbon blenders, stainless steel tanks, unscrambling tables, colloid mills and vitamin manufacturing equipment.
Wohl Associates has the pre-owned machinery to fit any production line. To view their inventory and learn more, visit them at http://www.wohlassociates.com/.