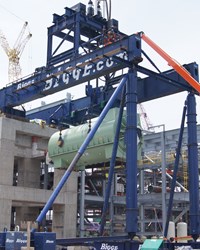 "It was great working with the design staff, but following it up with clear communication, planning and safe execution was essential to a successful lift."
Front Royal, VA (PRWEB) June 06, 2013
Bigge Crane & Rigging Co., announced today the use of an innovative heavy lift system now available to customers. Working with the Warren County Energy Partners, Bigge has erected the steam components for a power plant in Front Royal, VA. The pieces were hoisted using two 580 ton strand jacks from an elevated girder system, propelled by an electric trolley, and rough-set onto the concrete steam pedestal. This type of transport and rough-setting process required a high degree of sophistication and expertise in engineered heavy lifting.
The main section was a Mitsubishi steam generator weighing upward of 1.2 million pounds. Using 185 feet of girder runway, the components were lifted and moved over 160 feet. The lower LP casings, LP rotors, and steam turbine parts were also moved using this heavy lift system. Due to the elevation of the pedestal, the girders needed to be set 60 feet in the air, an engineering and technical challenge. Due to the size of the jobsite, Bigge also had to plan the erection sequence down to the minute, so the trucking schedule had to be precise to minimize onsite storage and expedite the setup of components in a compressed timeframe.
"It was great working with the design staff," said Josh McCord, Warren County Energy Partners Planning Manager, "but following it up with clear communication, planning and safe execution was essential to a successful lift."
Aboug Bigge:
Bigge Crane & Rigging Co. was founded in 1916 and is a nationwide leader in heavy lift solutions. With a fleet of over 500 cranes, highly trained engineers and technicians and a centuries worth of experience, Bigge can offer its customers a wide array of hoist, lift and transport options to suit any size job. Bigge operates and bare leases cranes on a nationwide basis out of nine U.S. locations, from California to Virginia.