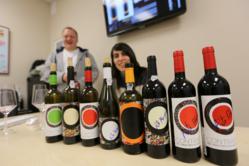 Vienna, VA (PRWEB) June 06, 2013
The family of Ferreira deeply rooted in the wine-making business of Alto Douro since pre-Renaissance times. The new "Concept" began with developing a new approach where understanding of the region and its particular "terroir." The foundation for new "concept" of the wine-making initiated by Carla Costa Ferreira in the early 90s. Carla was remarkably bold in making wine in her own conceptual way against all criticism from friends and connoisseurs. Success came in 2005 with the new winery. The stubbornness of Carla passed on to her daughter, Rita Ferreira, who studied oenology while continuously visiting well known wineries around the world. Rita continued the revolutionary style of the wine-making. This approach is extraordinarily simple but yet for local wine-making it is a new way of thinking. Rita combined traditional granite pressing "lagares" with advanced technology of thermo-controlled stainless steel tanks, micro-winemaking in order to achieve one objective. This objective is to preserve the complexity of terroir, aromatic spirit of the grapes, yet keeping balance and purity. Personally, her underlying objective is to expose the best of Portugal's winemaking region.
Georgiy Kharchenko, a serial entrepreneur, founder, and the CEO of http://www.classewines.com realized that there is a lack of quality Portuguese wine available to American consumers. Georgiy founded Classe Wines at the end of 2011. The primary step for him was not just wine supply chain but understanding and appreciating quality wine. Hence, he visited most prominent wineries across European continent in order to understand and discover the number of things. The first lesson Georgiy learned was to familiarize himself with the soil, environment, meet the winemakers and visit the wine cellars. Once he was able to accomplish this part of the business, he quickly discovered what is majorly missing in America. ClasseWines.com became an indispensable medium to appreciate authentic wine that is only available at upper-scale restaurants and is in limited production. Georgiy made every effort to secure number of bottles in advance in order to fulfill his dream of bringing exquisite and well known wines from Conceito Estate. He invited Rita Ferreira to his office in Vienna, and she personally signed a limited number of bottles for Classe Wines to testify its exclusivity.
Rita Ferreira, in her early 30s, is a highly dynamic young woman who puts her soul and heart into winemaking. Coupled with a business model that Georgiy Kharchenko implemented, Classe Wines is ultimately the only source for every wine lover to discover the world of Portuguese wines that are not widely available at retail stores and restaurants. At Classe Wines, we believe that the customer deserves to know what it takes to produce high quality traditional wine.
Classe Wines offers a series of Contraste from 2008 to 2010. The authentic 2008 Vitivinicola Contraste Vinho Tinto (Red Wine, Douro) is $24.95. Surprisingly, 2009 is of the same price. The 2010 Contraste Branco is $24.95 respectively. You can order online at http://www.classewines.com or by calling customer service 1-800-793-9141 between 9AM to 5Pm Eastern Time.
Contact
Georgiy Kharchenko
1-800-793-9141