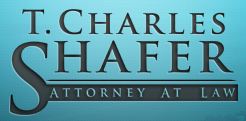 Fort Pierce, FL (PRWEB) June 05, 2013
Fort Pierce Criminal Defense Attorney T. Charles Shafer has recently been appointed the position of Vice President for the St. Lucie County Association of Criminal Defense Lawyers (SLCACDL). This is a major honor that demonstrates the leadership quality Attorney Shafer, who founded T. Charles Shafer, Attorney at Law.
The appointment to this position gives Attorney Shafer additional opportunities to use his professional experience to make a difference in his local legal community, particularly in the area of protecting the rights of individuals accused of criminal offenses. This is not the first time the lawyer has acted in a leadership role. He has previous served as president of the St. Lucie County Bar Association, where he now serves as a member. Currently, Attorney Shafer serves on the board of directors for The Arc of St. Lucie County, which provides various services aimed at empowering individuals with disabilities so that they can improve their quality of life. Furthermore, Mr. Shafer holds membership in several organizations for lawyers, which include the Florida Association of Criminal Defense Lawyers, the National Association of Criminal Defense Lawyers and The Florida Bar (the Criminal Law and Family Law sections). He additionally serves on the Legal Committee of the National Organization for the Reform of Marijuana Laws (NORML).
Attorney Shafer has an extensive amount of experience in criminal law. He has been providing individuals accused of crimes with aggressive defense since 1986. He worked as an Assistant Public Defender for the 19th Judicial Circuit Court of Florida from 1986 until 1989, which was when decided to go into private practice. In 1991, the lawyer opened his own law firm. Throughout his career, Attorney Shafer has handled hundreds of non-jury trials and more than 75 jury trials. His top-tier legal ability and ethical standards have been recognized by Martindale-Hubbell®, which has provided him with its AV Preeminent® rating, the highest rating given by this organization.
T. Charles Shafer, Attorney at Law is prepared to help clients through each stage of their criminal proceedings, including pre-trial preparation, trials and post-conviction motions. Attorney Shafer's main goals are to work hard on behalf on his clients' behalf and to let these individuals know that they do not have to go through the defense process alone. The experienced legal professional is able to handle a broad range of criminal charges, and he can even assist individuals with the appeals process. In addition to criminal defense, the attorney's firm also practices family law. More information about T. Charles Shafer, Attorney at Law can be obtained at http://www.tcharleslaw.com.