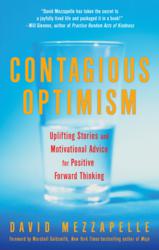 (PRWEB) June 06, 2013
David Mezzapelle, author of Contagious Optimism, and founder of several successful businesses, wants everyone to live more optimistically and to pass on that optimism to everyone around them. Huffington Post suggests "10 Habits That'll Help You Look On The Bright Side," with excerpts from the book, that include the power of positive forward thinking, and living with gratitude instead of blame.
David Mezzapelle and his contributors will be launching the book tour of Contagious Optimism this month. Hear stories and learn the tools to living optimistically at these events.
David Mezzapelle's Events:
June 20, 2013: Books-a-Million, Jupiter, FL - 3pm
June 26, 2013: East West Bookshop, Mountain View, CA - 7pm
June 27, 2013: Barnes and Noble, San Jose, CA - 2pm
June 28, 2013: Towne Center Books, Pleasanton, CA - 11am
June 28, 2013: Books Inc. Alameda, CA - 7pm
June 29, 2013: Book Passage Marin, Corte Madera, CA - 7pm
July 16, 2013: Fairfield University Bookstore, Fairfield, CT - 7pm
September 25, 2013: Inside Edge Interim, University of California Irvine - 7am
Contagious Optimism contributor events:
June 15, 2013: Chloe Jonpaul and Barbara Kazdan, Books-a-Million, Washington D.C. - 2-4pm
June 15, 2013: Becky Woodbridge, Murder by the Beach, Delray Beach, FL - 1pm
June 15, 2013: Colleen Georges, Barnes and Noble at Somerville Cir., Bridgewater, NJ - 12-2pm
June 15, 2013: Paula Snyder, Barnes and Noble New Hope Commons, Durham, NC - 3pm
June 23, 2013: Colleen Georges, Barnes and Noble Rutgers University, New Brunswick, NJ - 2pm
June 25, 2013: Barry Lindstrom, Changing Hands, Tempe, AZ - 7pm
August 10, 2013: Mona Tippins, Barnes and Noble, Calabasas, CA - 12-4pm
Contagious Optimism
Uplifting Stories and Motivational Advice for Positive Forward Thinking
David Mezzapelle
100 Habits of Highly Optimistic People
Start using the lessons of Contagious Optimism to write your own "silver linings playbook." Contagious Optimism includes stories, advice, actions and insights from business leaders, visionaries, professionals and just plain folks. David Mezzapelle believes that we all have the capacity to make optimism contagious just by sharing our life's adventures, and he's found a group of unstoppable optimists who have made their lives exactly what they want them to be.