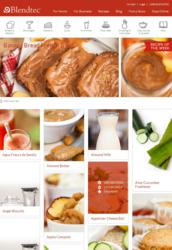 The new site reflects our commitment to innovation and the user experience
Orem, UT (PRWEB) June 06, 2013
Blendtec, a leading manufacturer of high-end commercial and home blenders, today announced the launch of its new website and online storefront, found at http://www.blendtec.com. The revamped site brings together easy-to-use navigation and rich content filled with numerous recipes, how-to videos, and opportunities for user participation.
Nate Hirst, interactive marketing manager, spearheaded the Blendtec website reboot.
"The new site reflects our commitment to innovation and the user experience," says Hirst. "It's super easy to use, has tons of useful content, and really connects with customers and food lovers in general."
Further site enhancements are slated to be released in the coming weeks and months, with the ultimate goal of becoming a primary destination for individuals whose interests span everything from health and fitness to technology, entertaining, and nutrition.
Reed Beus, chairman and CEO of Blendtec, says the new website can help strengthen customer relationships. "Our customers are always a top priority. We want to make sure they're getting the most from their Blendtec blenders. And if they have any questions or concerns, we want to know," says Beus. "Along with our efforts in social media, the new blendtec.com will improve our avenues of communication and trust."
About Blendtec
Based in Orem, Utah, Blendtec manufactures industry-leading commercial blenders and dispensers for industrial applications as well as commercial-grade blenders and appliances for home use. The award-winning Will It Blend?® Internet video series (willitblend.com) demonstrates the amazing performance of Blendtec's blender technology and has raised awareness across the globe of the Blendtec brand. Blendtec designs and builds all of its products in the USA, with at least 80% of its materials coming from domestic sources. Sold in 90 countries, Blendtec offers the total solution for anyone's blending needs, both in home and business. For more information go to blendtec.com, or call Blendtec directly at 800-748-4500.