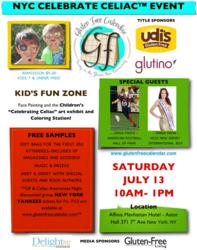 "I'm very excited for the opportunity to work with Gluten Free Calendar and promote celiac disease awareness to the ever-growing community that must live a gluten free lifestyle." -Jenna Drew, Miss New Jersey
Gilbert, AZ (PRWEB) June 06, 2013
Gluten Free Calendar™ is taking their signature Celebrate Celiac™ events on the road, this time to the Big Apple. On Saturday July 13th from 10am-1pm, the community will enjoy mingling with others who are living gluten-free whether due to celiac disease, non-celiac gluten sensitivity or any other reason. Vendors, gluten-free snacks, a kids fun zone and prizes like an autographed book donated by BabyCakes NYC™ Founder Erin McKenna are just a few more things attendees can look forward too. In addition, special guests Jenna Drew, Miss New Jersey, and Craig Pinto former arena football player and inductee into the American Football Hall of Fame and Founder of the non-profit organization kicking4celiac.org will be talking with guests. Both live with celiac disease themselves and work diligently to raise celiac awareness. Guests can ask questions to local gluten-free bloggers and support group leaders who will be at the event. NYC Celiac Meetup Group is the nations largest of its kind with over 1,600 members and is run by the well loved gluten free blogger Erin Smith of GlutenFreeGlobetrotter.com and GlutenFreeFun.blogspot.com Erin will also be at the event ready to meet attendees. Kids will enjoy face painting and an art station where they can share how they find ways to Celebrate Celiac™.
"I'm very excited for the opportunity to work with Gluten Free Calendar and promote celiac disease awareness to the ever-growing community that must live a gluten-free lifestyle. It's truly organizations like GFC and individuals sharing their personal journeys who are making information and resources more readily available to those newly discovering the gluten-free diet," said Jenna Drew, Miss New Jersey whose platform is celiac disease awareness.
The event will take place at the Affinia Manhattan Hotel-371 Seventh Avenue, New York, NY in the Astor Hall from 10am-1pm on Saturday July 13, 2013. The first 250 attendees will receive a gift bag to carry their gluten-free goodies. Udi's Gluten Free and Glutino will act as the title sponsors for the event with Delight Gluten Free Magazine and Gluten Free Living Magazine acting as the media sponsors. Both have featured the event in their May/June issues through a full page color ad.
The night before, July 12th, will be celiac awareness night with the Yankees in which game tickets purchased through Gluten Free Calendar's website will benefit the Celiac Disease Center at Columbia University. "Dr. Peter Green is truly a one of a kind expert in the field of celiac disease and non-celiac gluten sensitivity. His book, Celiac Disease, a Hidden Epidemic, was a saving grace for me after diagnosis. We are excited to be raising money through these group game ticket sales for his research facility so that he may continue is work and groundbreaking research for these diseases," said Chandice Probst, Founder of Gluten Free Calendar. "We love doing these events nationwide to create Unity in the Gluten Free Community™" said Chandice. Game tickets may be purchased by visiting http://www.glutenfreecalendar.com.
For media inquiries or to learn more about Gluten Free Calendar hosted events, please contact Chandice Probst at chandice(at)glutenfreecalendar(dot)com.
About Gluten Free Calendar:
The ULTIMATE connection to gluten free and celiac events is Gluten Free Calendar™. From support groups, expos and in-store demos to Gluten Free Calendar™ hosted awareness nights, individuals will finally be able to find all gluten free and celiac events in one place. Gluten Free Calendar™ prides itself in being a give-back company.
With Unity in the Gluten Free Community™ as the companies slogan, they look forward to achieving just that through Nationwide Celebrate Celiac™ events and Gluten Free and Celiac Awareness Nights they host with professional athletic teams around the nation. Gluten Free Calendar™ works diligently to raise awareness for celiac disease and gluten sensitivity as well as proceeds for research facilities and related non-profit organizations. For more information please visit http://www.glutenfreecalendar.com.