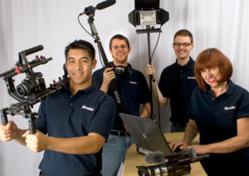 Webinars are a live presentation, so we're able to take specific questions and explain – to the best of our ability.
Chico, CA (PRWEB) June 06, 2013
On June 12, 2013 Videomaker will host its first Advanced Shooting webinar, 11AM (PST). It will explore different ways aspiring videographers can improve their skills using a variety of methods. It covers topics such as storyboards, white balance, lenses, stabilizing tools and more.
Videomaker, long considered a leading resource in video production industry, will continue to introduce other new webinar titles throughout this summer. Already boasting an impression catalog of webinar topics and subject matter, these new titles should be of great interest to both novice and experienced video producers who rely on webinar content to help improve their video production skills and knowedge.
According to Michael Wilhelm, Videomaker's Content Director, these new webinar offerings will "give our readers an even deeper well of video knowledge to pull from. It is our intention to provide the Videomaker audience with every tool we can to ensure they are successful in creating better video."
The new webinar curriculum focuses on the following essential areas of the video shoot: advanced shooting, audio for video, making money with video, and wedding and event videography.
Starting in 2010, Videomaker has offered a broad range of webinar topics; from green screen and special effects to basic and intermediate editing. These new webinars were introduced as a means to provide videographers with critical information in other aspects of video production that weren't currently covered. Jackson Wong, Associate Editor of Videomaker, offered insight to the importance and benefit of their these new webinars, in addition to the webinar format in general. "Webinars are a live presentation, so we're able to take specific questions and explain – to the best of our ability. We give as many visual examples as possible. The new webinars we're doing are really exciting since they'll have a focus on production aspects like shooting and audio, which are our favorite subjects."
To view a schedule of Videomaker's new upcoming webinars, as well as research the detailed subject matter of each topic, go to http://www.videomaker.com/store/events/webinar to learn more.
ABOUT VIDEOMAKER
Founded in 1986, Videomaker was the first magazine to introduce video to a mass, non-industry audience. Though the video field has exploded dramatically in recent years, Videomaker still remains dedicated to its core mission: to encourage aspiring directors and documentarians to use video technology to find their own voices and tell their own stories. Today, Videomaker is more than just a magazine. It's grown to also become a robust online community, offering a full line of training DVDs, videos-on-demand and a series of webinars and hands-on video training workshops. Every month, nearly half a million professional videographers, independent filmmakers, and home video hobbyists turn to Videomaker at http://www.videomaker.com to get the latest video scoops.