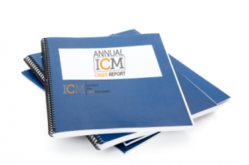 It may not happen suddenly; it can smolder for years. It may not be shock and awe, but can still derail your company.
It may not happen in a company or industry prone to crises, schools and universities might experience it, too.
Louisville, KY (PRWEB) June 10, 2013
"It will never happen to us! That is the mantra we hear at the Institute for Crisis Management time and again." As a business school professor whose research and teaching topics have encompassed the complete cycle of a crisis, ICM President Erika James perceives that although the absolute occurrence of such tragedies as those we see in the news headlines are in fact rare, the devastation is mounting. We've felt the effects of the Sandy Hook Elementary School shooting, the recent tornadoes in Oklahoma, and the West, Texas fertilizer plant explosion in recent months. And cyber and financial crises are also occurring that can devastate businesses and even industries. "The fact is that no organization is immune from crisis, and effective leadership makes a huge difference to an organization under stress," James observes. 
Founded in 1990, The Institute for Crisis Management has been at the forefront of helping companies, government agencies, educational institutions, and non-profits with crisis communication planning and implementation. ICM's crisis management offerings help organizations through all phases of a crisis, including determining risk of crisis and being prepared for it; containing a crisis with effective communications to the media and to internal and external stakeholders; and learning from and seizing opportunity from crisis.
The 2012 Annual ICM Crisis Report is a compilation of news, crises analysis and trends, and assessment of high risk industries. Organizations can gain valuable insight on the impact crises have on the economy, companies, and individuals by reading examples of the year's most notable events. According to the report, the Top Crisis Categories were: White Collar Crime, Mismanagement, Class Action Lawsuits, and Workplace Violence.
And the year's Top Ten Most Crisis Prone Industries were (in order of most to least): Banking, Security Brokers and Dealers, Pharmaceutical, Air Transport, Petroleum and Natural Gas, Software, Telecommunications, Surgical/Medical Equipment, Education, and Automobile.
The report is available for free download now.
Erika James urges leaders to invest in comprehensive crisis planning and crisis management training programs as crucial tools to prepare for and potentially prevent or mitigate dangerous situations.
In The Institute for Crisis Management's two day Crisis Communications Certification Course participants focus on techniques for preventing internal business crisis from going "public," and how to minimize the damage to the organization's ongoing business when public disclosure cannot be avoided.
Visit the ICM web site to download a free copy of the 2012 Annual Crisis Report, register for the next Crisis Communications Certification workshop scheduled for July 16―18, and inquire about crisis planning and prevention.