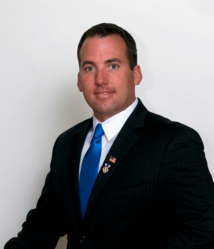 The people of the third district need a leader that will stand up for what is best for the district and country
CHARLOTTE, North Carolina (PRWEB) June 08, 2013
Jason R. Thigpen, candidate for North Carolina third Congressional District, will be attending in the state's Republican Convention on June 7-9, 2013 in Charlotte. Jason will meet with party leaders from the district and throughout the state as he continues his campaign towards the May 2014 primary.
Jason is very excited about the meeting more voters and party activists. "We have been traveling throughout the district and received a lot of support and encouragement," he said. "I expect that it will be a difficult campaign. However if the early signs of support are any indication, I think we stand a very good chance in the May primary."
As a combat veteran, Jason is used to serving his country, and is looking forward to taking this next step. "My military experience is really how it all started, and what it really about - representing and serving the people," says Jason. "The people of the third district need a leader that will stand up for what is best for the district and country," he adds.
About Jason Thigpen - Jason Thigpen is a business leader, a combat veteran and an advocate and leading voice on veteran and military affairs. He grew up in Wilmington, and ran successful businesses person and was a budding entrepreneur. Due in large part of the 9/11 attacks on America, Jason heeded the call to serve his country and enlisted in U.S. Army. He served in combat, including a fourteen-month tour in Iraq.
Upon his return from active duty, Jason enrolled at the University of North Carolina - Wilmington to continue his education. While still a student, Jason saw other veterans being hurt by some of the unintended consequences of the post-9/11 G.I. Bill. He formed a non-profit organization to advocate on behalf of his fellow student veterans. As an advocate for veterans, Jason worked to change laws at the Federal and state levels. It was the many visits to Washington, D.C. to meet with Congressman and testify before committees that Jason realized that more needed to be done.
Jason cites veterans' issues as part of his initial reasons for getting in the race, but says it much more than that. He recognizes that veterans represent a true cross-section of America and that veterans' issues are America's issues. Jason is running for Congress because America matters.
Jason lives in Holly Ridge with his wife Tiffany, an active duty Marine stationed at Camp Lejeune. Together they have four children.