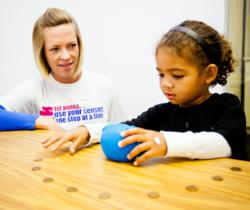 "We are very excited to present these webinars, which offer such great practical tools and information,"
Denver, Colorado (PRWEB) June 06, 2013
Sensory Processing Disorder (SPD) Foundation will be conducting a new webinar series, The Occupational Therapist's Role: From Evaluation to Treatment starting on June 19, 2013. Lucy Jane Miller, PhD, OTR and Sarah A. Schoen, PhD, OTR will explain how assessments are selected for identification, treatment planning and measuring progress of children with developmental concerns.
This three-part series is the first of many to come that focus on the flow from assessment to development of a treatment plan. "We are very excited to present these webinars, which offer such great practical tools and information," said Sheryl Benjamin, executive director of the SPD Foundation. Each series will highlight an assessment tool commonly used in clinic and school settings. Although intended primarily for occupational therapists, content may be beneficial to other professionals, including psychologists, physical therapists, teachers, and other childhood intervention specialists. This first series begins with an overview of assessments in the first two-hour program, and then focuses on the M-FUN (Miller Function and Participation Scales) in the second and third sessions of the series.
Session 1⋅June 19⋅12 PM-2 PM EST
Selecting the Right Tools for Conducting a Comprehensive Evaluation:
Explore major assessment tools including DAP (Draw a Person), GOAL (Goal- Oriented Assessment of Lifeskills), BOT-2 (Bruininks-Oseretsky Test of Motor Proficiency), M-FUN (Miller Function and Participation Scales) and more.
Session 2⋅July 24⋅12 PM-2 PM EST
Administration and Scoring of the M-FUN
Assessing Children Ages 3-8 in School and Clinic Settings:
Focus on mastery in administration, scoring and basic interpretation of this standardized assessment.
Session 3⋅August 28⋅12 PM-2 PM EST
Advanced Interpretation of M-FUN and How it Informs Treatment:
Synthesize client's information, document and communicate findings to parents and translate findings into a treatment plan.
All sessions will use videos of actual cases that link the child's history, and assessment findings to presenting problems.
Sessions will be archived and available for purchase after the live airing. They will be available for review for two weeks after live airing or two weeks after purchase date if airing date has passed.
.2 AOTA CEUs offered per webinar.
Other online educational offerings can be found at SPD University.