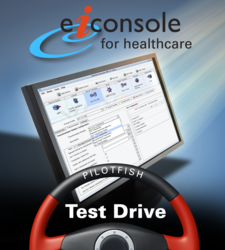 With our Quick Start Tutorial anyone can complete the interface, whether or not they have had any programming experience.
Middletown, CT (PRWEB) June 06, 2013
Applied PilotFish Healthcare Integration, a provider of middleware solutions, announced today that it has created a 20 minute test drive for its breakthrough healthcare integration solution.
The company's eiConsole for Healthcare defies the notion that complex healthcare integration cannot be accomplished without developers and programming or scripting. "The eiConsole for Healthcare proves that a user can perform complex integration using the eiConsole's Graphical Integrated Development Environment (IDE). Drag & drop data mapping and simple to fill-out configuration panels eliminate the need to hand code, anything." said Monika Vainius, Executive Vice President of Applied PilotFish Healthcare Integration. "In order to put our solution in the hands of new users and to prove how easy it is to use, we have created a Quick Start Tutorial that allows users to complete an end-to-end interface in under 20 minutes. When coupled with our simple, free 90-day trial download and registration process it allows users to make a very minimal investment of time to test-drive our product and to see how easy it is to use for themselves. Anyone can complete the interface, whether or not they have had any programming experience."
With its exclusive, self-documenting "Assembly Line" process, the eiConsole liberates organizations from being dependent on who created an interface and who can maintain them. With the product's graphical IDE, the bulk of interface work can be relegated to business analysts or junior developers, and can be completed in a fraction of the time compared to other products.
The ease of use of the product doesn't come at the cost of flexibility or extensibility, either. eiConsole users can choose from over 24 connectivity protocol(s) including TCP/IP, batch files, and web services, or add others in using an Open API. It's a future-proof HL7 interface engine solution where users can leverage the product's other configurable transformation, data manipulation and validation components to interface any system, application or database – anything, anywhere. They can use any industry or XML standard, not just any version of HL7 2.x, but full support for HL7 3.x, DICOM, CDA, CCD or anything new that comes along.
Organizations that need to integrate with equipment, medical devices, systems, databases and applications will benefit from flexible licensing and deployment options that allow cloud to cloud, cloud to ground or ground to ground deployment. Bundling licenses eliminate the need for organizations to build and maintain integration engines that are outside of their core competency. Instead, they can license or resell an extremely cost effective and comprehensive healthcare integration solution.
Interested parties can view a 5 minute YouTube Video, download the 90-Day Trial or call the company for a custom demonstration.
About PilotFish
Applied PilotFish Healthcare Integration, Inc. (APHII) is a subsidiary of PilotFish Technology. Founded in 2001 and based in Middletown, CT, PilotFish Technology develops middleware to enable the integration of disparate systems. APHII distributes PilotFish products directly to healthcare industry end users and through select channel partners.