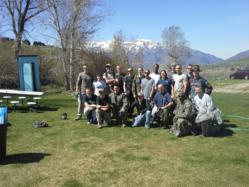 Check us out we are growing fast, our best year ever
Morgan Utah (PRWEB) June 06, 2013
New website from action center announced. http://www.utahpaintballsupply.com will be part of the triple crown of paintballing websites.
Utah Paintball Supply is an Action Center Company and has one of the largest inventories of any paintball gear and accessories store in the Western United States. Action Center has 20 years in the paintball industry, Get the advantage on the playing field by choosing the best of thousands of paintball guns, goggles, tanks, loaders, and hoppers. Utah Paintball Supply is the largest little paintball store a paintball player will ever see.
Join Action center on the exclusive 360⁰scenario paintball field in Morgan, Utah. Triumph over the paintballing foes while dodging menacing enemy fire behind trees, barrels and other obstacles. This field is truly one-of-a-kind (yet another thing worth bragging about!).
Get the gang together for great group rates—with no surprises. Check out paintball packages and see for the savings. Utah paintball supply includes everything needed for the field a player will ever need. And yes, the prices are very parent-friendly.
Utah paintball supply wants the paintball day to be something to brag about. So get those paintballs in the hopper and start shooting!
visit the new website at
http://www.utahpaintballsupply.com.