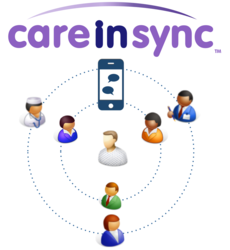 Santa Clara, CA (PRWEB) June 06, 2013
CareInSync and Marin General Hospital announce the formation of the Nation's first Mobile Care Transitions Network™ in Marin County, California, connecting physicians, nurses, caseworkers, and home care managers across seven health care organizations. Powered by Carebook™, the network brings together patient-centered teams across disparate organizations in real-time, enabling safe and timely care transitions for patients.
The Marin County Mobile Care Transitions Network™ is an unprecedented mobile technology-enabled collaboration anchored by Marin General Hospital, supported by the Gordon and Betty Moore Foundation, and including Sutter Care At Home, Marin County Health and Human Services, Marin Community Clinic, Meritage ACO, West Marin Social Services, and Jewish Family Services. Health care professionals at these independent organizations are brought together as active, engaged members of the patient care team by CareInSync's Carebook mobile platform. As patients transition out of Marin General Hospital, Carebook automatically risk-stratifies patients and applies risk-specific evidence-based interventions to ensure efficient focusing of the right resources at the right time, resulting in a better outcome and an improved patient experience.
Select interventions from Project RED® (Boston University's Re-Engineered Discharge), Project BOOST® (Society of Hospital Medicine's Better Outcomes for Older Adults through Safe Transitions), the Care Transitions Intervention® and the Marin General Hospital's own best practices have been brought together to implement COAST@Marin™ (Collaborative for Older Adult Safe Transitions at Marin), powered by Carebook. By coupling evidence-based interventions with a real-time multi-disciplinary team communication platform, Carebook is addressing the single most important barrier to improving health care quality and cost: the dangerous communication gaps that occur during health care transitions, particularly when multiple organizations are involved.
"Marin General Hospital has been looking for a way to improve communications amongst members of a care team, but also to make sure that all elements of an evidence-based discharge get completed in a timely fashion. Carebook has provided an elegant solution to this," says Susan Cumming, MD, SFHM, Medical Director at Marin General Hospital, visionary and architect of the COAST@Marin program. "Carebook has been adopted by care providers because it has broken down barriers to communication, and has served to flatten the communication hierarchy. Streamlining these communications contributes to enhanced patient safety." Sharon Reid, an RN Case Manager at Marin General Hospital, adds "I love being able to instantly communicate a patient's discharge plan to the entire team at once. It helps all of us on the team to coordinate our workload, and to respond immediately to urgent issues that can make a big difference." Kareen Ferrer, RN, a bedside nurse at MGH says, "Carebook has had a huge impact on nursing workflow. As nurses, we get an immediate response when we send a message to the MD. We don't have to page them and wait for a call back."
Post-discharge community care providers are also excited about how the tool is helping them deliver safer and more timely care to their patients. Danielle Hiser, a post-discharge Care Transition Coach from Marin County DHHS, adds "An alert appeared in Carebook, reminding me to visit a high-risk patient at home for transition coaching the day after discharge. I was able to make a big difference by teaching this patient how to manage their own care as they transitioned from the hospital stay to home. Before Carebook, this opportunity to influence a positive outcome could have been missed."
Marin's Mobile Care Transitions Network, powered by Carebook, went live on January 2013. In just four months since the launch, the following improvements have been measured:
1. HCAHPS (patient satisfaction) scores for the patient care transitions section have increased by 12.6%.
2. Patient-centered care team communication on Carebook involving physicians, nurses and case managers has increased by 82% since launch.
3. Hospital physicians are able to better utilize the 30-45 minutes they save per day by instantly identifying and coordinating with the patient care team on Carebook, instead of playing frustrating phone-tag with pagers.
4. To date, Carebook has facilitated the identification of the 11% of the patients with readmission risk factors. Carebook notifies coaches from surrounding area home-health and other agencies, then the coaches use Carebook when they visit these patients at home post-discharge to administer the Care Transitions Intervention®. In 40% of the cases, the coaches have been able to identify discrepancies between the patient's understanding of their discharge medications and the actual list provided to them at discharge – a confusion that could have led to a return visit to ED, a readmission or other adverse outcome.
"Take a complex discharge process, in a stressful environment, coordinated by a multidisciplinary team that is constantly moving and changing daily while caring for very sick patients with myriad challenging socioeconomic factors and it is very easy to see why things fall through the cracks. We started out with the premise that this is a people & communications problem. If we can keep the care team in sync by helping them communicate and collaborate on a patient-specific evidence-based care transition plan, we can effectively address these challenges. This is what Carebook does", says Siva Subramanian, PhD, Founder and COO of CareInSync.
CareInSync and Carebook are trademarks of CareInSync. Project BOOST®, Project RED® and CTI® are registered trademarks of Society of Hospital Medicine, Boston University Medical Center and The Care Transitions Program of the UC, Denver respectively.