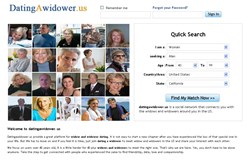 We are taking steps to help anyone be happy after a loss
(PRWEB) June 12, 2013
Many widows and widowers miss the constant companion and companionship with the loss of their significant other. In fact, most dating websites are geared to a much younger, less-mature crowd who are looking for a first date, not someone who has lost another.
SuccessfulMatch, a company with more than a decade of experience in creating niche dating websites, is pleased to announce a new widows and widowers dating site specifically geared to support widows and widowers – datingawidower.us
"So many who are single because of the loss of a beloved companion realize that being alone would not have been what the other would want, so we created this website specifically for those who are looking to date again," said Matt Steward of datingawidower.us.
While many are Baby Boomers and older on this website, there are a handful of younger people who have experienced tragedy and are looking to move forward in life.
"Too many die of loneliness, so we are taking steps to help anyone be happy after a loss," said Steward.
The primary focus of the website will be on adults in the US and over the age of 40, but all will be welcome to join and look at the possibilities available.
Like all sites in the SuccessfulMatch network, joining is free and only takes a few minutes of time. A verification process and verified member searches are also part of the website.
"Because of the nature of the website and the sensitive nature of the people who are visiting, we wanted to be sure to protect our customers and visitors to the best degree possible. Too many unscrupulous people want to take advantage of people who are in this situation," said Steward.
A forum is available for any potential member. A blog area for widower dating advice and safety tips is also included.
"Every aspect of our website came from the best of the dating websites. We chose the best parts and left the rest behind. This means an excellent opportunity for a special match," said Steward.
For more information visit http://www.datingawidower.us.