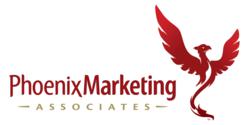 Phoenix, AZ (PRWEB) June 07, 2013
Phoenix Marketing Associates (PMA) has recently launched a new website: http://www.PhoenixAdvertisingAgency.org. The focus of this new site will be to educate consumers on the thorough process that PMA undergoes when managing advertising campaigns for its growing list of clients. Additionally, PMA sees the website as a lead generator and customer conversion tool for those seeking complete hands-off advertising placement, design and management.
PMA manages advertising, public relations and social media for clients throughout the southwest and has recently signed several new clients including San Diego based, UltraStar cinemas. PMA successfully manages advertising budgets of all sizes encompassing all mediums including television, radio, print, online and social with client budgets ranging from $20,000 per year to over $1,000,000.
PMA's work often garners both local and national recognition as evidenced by a recent project for the JDRF national office out of New York which was executed throughout all 80+ chapters across the country.
About Phoenix Marketing Associates:
Phoenix Marketing Associates was recently named a top marketing firm in 2013 by The Phoenix Business Journal. They work with small to medium sized businesses across North America to provide targeted and results driven marketing solutions on a contract basis within any budget. Phoenix Marketing Associates consultative approach allows for a thorough needs analysis which translates into an effective marketing and PR strategy that saves their clients time and money while providing maximum exposure.
By assigning a team of qualified professionals to each individual situation and utilizing the most current communication and online demand generation technologies, Phoenix Marketing Associates enables businesses to achieve Fortune 500 results on an entrepreneurial budget. For additional information, please visit http://www.PhoenixMarketingAssociates.com
Media contact:
Christine Holtz
Phoenix Marketing Associates
602-282-0202