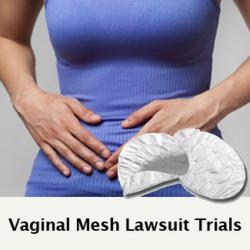 Wright & Schulte LLC offers free lawsuit evaluations to victims of vaginal mesh injuries following implantation of vaginal mesh. Visit www.yourlegalhelp.com, or call toll-FREE 1-800-399-0795
Columbus, OH (PRWEB) June 11, 2013
Wright & Schulte LLC, an experienced defective medical device law firm reports the number of vaginal mesh lawsuits being filed against Ethicon continues to grow in the wake of the first bellwether case in Ethicon Gynecare transvaginal mesh litigation (MDL 2327) concluding this past March. In fact, according to the New Jersey Atlantic County Superior Courts' online Case List, 2,853 Gynecare bladder mesh lawsuits have been filed against Ethicon as of May 30, 2013. [judiciary.state.nj.us/mass-tort/pelvicmesh/gynecare/gynecare-case.pdf May 2013] These transvaginal mesh lawsuits allege that the design of Ethicon's Gynecare bladder mesh slings caused the plaintiffs to sustain severe and, at times, permanent injuries and that Ethicon was allegedly negligent in failing to warn medical professionals and the public about the risks associated with its vaginal mesh slings.
Wright & Schulte, LLC specializes in defending the rights of those who have sustained serious injuries after using defective products and medical devices. Our skilled transvaginal mesh attorneys are experienced at successfully going up against large corporations. To date, Wright & Schulte has filed XXX vaginal mesh lawsuits against various manufacturers, including Ethicon, on behalf of injured women throughout the U.S. We encourage those who believe they have been injured due to use of Ethicon's or any company's bladder mesh to speak with our knowledgeable lawyers by visiting yourlegalhelp.com or by calling 1-800-399-0795.
Transvaginal Mesh Lawsuits and Injuries
Concerns regarding the potential dangers associated with Gynecare mesh slings and other Ethicon bladder mesh implants have been piling up ever since the Food and Drug Administration (FDA) first warned the public about the risks of severe complications associated with these devices. Specifically, some of the serious problems that are reportedly associated with Ethicon's Gynecare slings and that were included in the FDA's October 2008 mesh warning include urinary pain, pain during intercourse, vaginal scaring, mesh erosion through the vaginal lining, an increased risk of infection, puncturing of the blood vessels/bowels/bladder and recurrence of stress urinary incontinence (SUI). [fda.gov/medicaldevices/safety/alertsandnotices/publichealthnotifications/ucm061976.htm October 2008]
This growing public awareness regarding Ethicon Gynecare mesh sling complications again captured national attention and sparked widespread concern in July 2011 when the FDA issued a another mesh sling warning. At that time, the FDA announced that about 10 percent of women with a mesh sling have developed or would develop serious complications and that many women with serious transvaginal mesh complications required or would require invasive revision surgery and possibly the removal of the mesh sling within one year of implantation. [fda.gov/downloads/MedicalDevices/Safety/AlertsandNotices/UCM262760.pdf July 2011]
About Wright & Schulte LLC
Wright & Schulte LLC, an experienced personal injury firm, is dedicated to the belief that America's legal system should work for the people. Every day, the attorneys of Wright & Schulte LLC stand up for the rights of people who have been injured or wronged and fight tirelessly to ensure that even the world's most powerful corporations take responsibility for their actions. If you're looking for a law firm that will guarantee the aggressive and personal representation you deserve, please do not hesitate to contact Wright & Schulte LLC today. Free case evaluations are available through yourlegalhelp.com or by calling 1-800-399-0795.
Contact:
Wright & Schulte LLC
812 East National Road
Vandalia, Ohio 45377
1-800-399-0795
http://www.yourlegalhelp.com