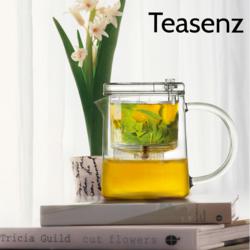 It's not an easy task to obtain real authentic Dragon Well tea. Since farmers only produce a small amount, they usually easily sell it to friends or family in their own social circle
Shenzhen, Guangdong (PRWEB) June 11, 2013
Specialty teas from China, such as the Dragon Well tea, have gained more popularity abroad, according to Teasenz. The online tea store based in China has successfully expanded its Dragon Well tea farmer network during the spring 2013 green tea season in response to the increased worldwide demand.
While the Chinese middle class is discovering coffee and French wine, the market for loose leaf Chinese teas outside of the 'Middle Kingdom' is growing steadily. As more scientific proof seems to be gathering for its health benefits, the health conscious tea drinker is choosing loose leaf tea over tea bags and coffee. "Observe the great amount of discussions and articles on tea health benefits online and you can conclude that this is an important aspect for tea consumers," says Lisa Lin, public relationship manager of the online tea store.
Still, more and more tea drinkers these days have developed a sophisticated taste palette for specialty teas, and are gradually appreciating the taste. This trend has spurred the growing demand for high quality green teas such as the Dragon Well tea (also known as 'Long Jing tea' or 'Lung Chin tea'), from the West Lake region, an area known as the Mecca of green teas.
"We have especially seen an increased demand from developed countries such as the United States, the United Kingdom, Canada, New Zealand and Australia," says Lin. The online tea store has increased its supply by cooperating with more Dragon Well farmers. "Because the average farmer in the West Lake region can only supply about 50 kilograms of Dragon Well tea, we had to expand our Dragon Well farmer network to satisfy the demand," says Lin. "It's not an easy task to obtain real authentic Dragon Well tea. Since farmers only produce a small amount, they usually easily sell it to friends or family in their own social circle," says Lin.
Whilst the online tea store faced the challenge of screening farmers and purchasing quality tea leaves simultaneously, it finally succeeded to reach their quota. Teasenz states that though the demand has increased from abroad, the Chinese tea drinker does not have to worry about increasing prices. Luckily, foreign demand is still only a small percentage of total demand, as Mainland China remains the main tea market for Chinese specialty green teas. In addition, Lin says, "Due to a reasonable harvest compared to last year, the sophisticated tea consumer is now able to enjoy Dragon Well tea at lower prices."
Teasenz is an online tea store allowing tea drinkers, small tea business and food business such as restaurants, cafés and hotels to buy tea online from China. For more information, please visit: http://www.teasenz.com.