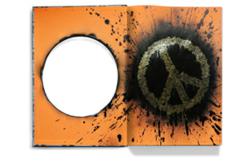 artistically blending the world of publishing and art for which The Curated Collection is becoming synonymous
Basel, Switzerland (PRWEB) June 10, 2013
In collaboration with SCOPE Basel, the art publishing house The Curated Collection will be launching six exclusive projects at the Scope Pavilion in Basel, Switzerland from June 10-17, 2013. On exhibit will be a very special series of limited edition books based on the contemporary art anthology For Which It Stands: Americana in Contemporary Art. Each of these 100 editions have been transformed into original works of art by six contemporary artists - Zevs, D*Face, Peter Tunney, Kevin Berlin, Jeremy Dean and Penny - each book signed and numbered.
These six artists, whose work will be revealed during the Basel art fair, have left their creative marks on 20 books apiece, creating exclusive, limited edition objets d'arts, artistically blending the world of publishing and art for which The Curated Collection is becoming synonymous.
Also on exhibit, artist Jeremy Dean will present his new series, Democracy, from which a portion of the proceeds will benefit the SCOPE Foundation's initiative: The Artists Emergency Fund. This never-before-seen presentation is an exciting moment for both the talented young artist and The Curated Collection line.
SCOPE Basel opens to Press and VIP's on Monday and Tuesday, June 10 -11 with a two-day First View benefit from 1pm – 9pm; the fair will run June 12-17, 2013. The Curated Collection can be found in special programs section P07 (Booth H18).
About SCOPE: With over 60 art shows spanning more than a decade, SCOPE has solidified its position as the premier showcase for international emerging contemporary art and multi-disciplinary creative programming. SCOPE's extensive reach enables an unrivaled opportunity for networking with art patrons, creative professionals and a culturally relevant public audience. Renowned for presenting the most innovative galleries, artists and curators, SCOPE Art Shows in Miami, Basel, New York, London and the Hamptons have garnered extensive critical acclaim, with sales of over $450 million and attendance of over 700,000 visitors.
About The Curated Collection: The books of publisher Patrice Farameh's The Curated Collection defy the aphorism 'Don't judge a book by its cover.' Each beautiful, unusual, and well-crafted shell opens up to reveal high-standard creative content. Every title explores an intriguing aspect of cultural phenomena that is mobilizing today's creative elite and in turn influencing an entire society. From the proliferation of the powerful skull symbol in art and design, to the allure of speakeasy style in an age of mass entertainment, to the image of America as seen through the lens of controversial and cutting-edge contemporary artists, The Curated Collection speaks to anyone interested in objects of truth and beauty.