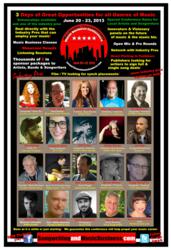 We're bringing in folks from Los Angeles who put music into movies and TV shows
Nashville, TN (PRWEB) June 06, 2013
East Tennessee native Amanda "Mandy" Williams is hosting the second annual Songwriting and Music Business Conference at the Hotel Preston in Nashville June 20-23, 2013. Songwriters and music business entrepreneurs from all over the world are coming together to learn how to create sustainable careers in the new music business.
"We're bringing in folks from Los Angeles who put music into movies and TV shows," says Williams about the upcoming Conference. "Turns out, they like songwriters a lot and want to come listen to the music we're making out here in Tennessee."
Both Elizabeth Miller, a music supervisor for MTV/CMT and indie films, and Stuart Hart, Sr. VP Production Music for Select Tracks ("Lincoln," "Hart of Dixie") are going to be listening to recordings for possible selection in their upcoming projects at the Conference. Ray Iddings, Executive Producer of Motor Sport TV including "Passtime" on Speed and "Won & Done" on MavTV will also be there looking for music to license for his shows.
In addition to the film and television opportunities, there will also be four prominent Nashville music publishers known for supporting new talent, and one record producer/hit songwriter (Anthony Smith of Oneida, TN) looking for songs to cut on his upcoming Curb Records recording artist.
"I've been out there in the Nashville music scene, and have seen it from a lot of angles," says Amanda. "What our company has done is bring two worlds together for mutual benefit. The songwriters want to get their songs out there making money, and the film and TV people need lots of songs. It's a win- win."
A typical music Conference costs upwards of $2,000 when participants get access to pitch their material. The Nashville Songwriting and Music Business Conference is only $300 for the entire weekend, and when you register, you can book your Hotel Preston room in Nashville for only $90/night at the Conference group rate.
Visit songwritingandmusicbusiness.com/conference to register for June 20-23.