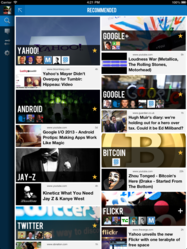 At Thirst we are investing in push technology that delivers exactly what users want in order to elevate, rather than dilute, the value of notifications. -Anuj Verma, CEO, Thirst Labs
San Francisco, CA (PRWEB) June 06, 2013
Thirst Labs today announced that it has added advanced push notification features and a revamped layout to the Thirst social news Platform to make it easier to keep up with topics. Thirst, which lets users follow the topics they care about via iPad, iPhone and the Web, also recently launched Thirst Droplet for Glass for Google Glass users. Building on growing interest in push notification technology as seen in Google Glass, Thirst 3.0, the latest version of its platform, incorporates a more targeted approach to notifications that complements the wearable computing experience.
Thirst allows users to keep up with the news by following their favorite topics. Thirst's natural language processing engine scans millions of online news sources including social media chatter, blogs and articles to detect which news topics are trending. Following the lead of Google Glass and the wearable computing market, the newest version of Thirst highlights the top stories in each topic users are following and delivers personalized push notifications, making it faster and easier to see which articles are spiking in popularity. Earlier versions of Thirst were designed to provide a personalized newspaper sorted by topic, with the option for users to drill down into specific stories and notifications related mainly to interactions within the Thirst network, such as likes, dislikes and new followers.
By moving toward a more push-driven content model, Thirst is embracing new trends in content consumption being adopted by highly connected users. Using the latest advances in push technology being driven by the wearable computing industry, Thirst is actively defining the most useful and logical ways to incorporate push notifications into mobile and web-based applications as well as emerging content platforms.
Downloads and Availability:
To download Thirst, please visit http://www.thirst.co and login to the Thirst network or create a free account.
Quote:
"The point of push notifications is to give people important information immediately and weed out the rest. However, if notifications are not employed carefully, it will lead to overload, defeating the entire purpose of this tool. At Thirst we are investing in push technology that delivers exactly what users want in order to elevate, rather than dilute, the value of notifications."
-- Anuj Verma, CEO, Thirst Labs
Resources:
Download Thirst for iPhone and iPad
Download Thirst Glass
(Screen shots on request)
About Thirst Labs
Thirst Labs bridges the gap between how people get their news and where they engage with it. Thirst Labs was founded by Anuj Verma and Kunal Modi, UC Berkeley graduates specializing in UI, UX, algorithms and architecture. Winner of first prize at the 2012 SXSW Accelerator Competition in the social category and the Judges' Choice award at GigaOM's Mobilize 2012 LaunchPad, the company's investors include BlueRun Ventures, Steve Newcomb, and Jason Krikorian. Thirst Labs is headquartered in San Francisco, Calif. For more information, visit thirst.co.