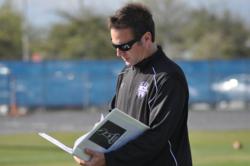 Rob is an amazing individual who was looking at death square in the eyes and beat it. Michael Husted.
San Diego, CA (PRWEB) June 06, 2013
Kicking coach Michael Husted features an interview Michael Husted.com with former Syracuse punter, and cancer survivor Rob Long, on his battle with cancer and his desire to play in the NFL.
Long, is a former Syracuse punter who, just a few short years ago, found out he had a brain tumor. Long, a Division I college football player, went from being a semi-finalist for the Ray Guy award, to winning the fight of his life against cancer.
Husted, who played in the NFL for 9 years, interviewed Rob for Husted's blog, Michael Husted.com to talk about Rob's physical and emotional journey in battling cancer.
Husted says Long is a very special individual who has faced something few at his age have to face: death.
"Rob is an amazing individual who was looking at death square in the eyes and beat it," says Husted. "I'm honored to have had the opportunity to ask him several questions about his fight against cancer."
In the interview, Husted asks Long a series of questions ranging from 'how he felt' when he first found out he had cancer, to does his girlfriend prefer him 'with or without hair'. A question to which Long matter-of-factly responded, "You would have to ask her, my guess is with hair. I'll have plenty of time to be bald after 50."
Go here for Michael Husted's interview with Rob Long at Michael Husted.com.
Other excerpts from the interview:
Husted: "What were your first thoughts and emotions when you found out you had a brain tumor? In your video you said there was a 'wave' of emotions you couldn't describe. Can you describe them now?"
Long: "I still don't know that I can put it all in to words. I was mostly just scared of the unknown that came along with having a brain tumor. It wasn't until the following day I realized how big the tumor was, about the size of a tennis ball, that I really thought I did not have much time left on this earth. At 21 that can be a terrorizing feeling. It is one that I will never forget."
Husted: "You say in your video you are always trying to 'perfect' the art of kicking a football. Did this attitude play into your efforts to fight the cancer? If so, how?"
Long: "I think the work ethic that I have towards football was huge. I was always driven to be successful at punting and I had to switch gears and my new goal was to be successful at beating cancer which no one in my family had successfully battled before. However, we now have three happy and healthy cancer survivors in the family."
Husted: "What would you say to other young individuals who are facing a similar challenge? What advice would you give them?"
Long: "I feel what helped me most was having a goal. I have had the goal of getting to the NFL from the outset of everything and that gave me something to strive for. It was a reason to get out of bed and go to treatment and then go to the gym, even though I was physically and mentally exhausted. It kept a special fire burning inside of me that I knew I had an end goal."
And when asked if he wanted to add anything to the interview, Long's response reflected his life's passion.
Husted: "Would you like to add anything?"
Long: "Dear All 32 NFL Teams, Will one of you please hire me, you will never regret it. Thank you for your precious time. Rob."
Go here for the Michael Husted's interview with Rob Long at Michael Husted.com.
Go here for to learn more about kicking coach Michael Husted.