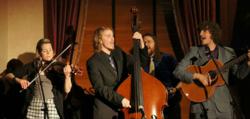 Minneapolis, Minnesota (PRWEB) June 12, 2013
The Depot Renaissance Minneapolis Hotel will join Renaissance Hotels worldwide in a "Global Day of Discovery," Wednesday, June 19, starting at 3 pm. The public event, which is complimentary, will feature the unique artistic expression of the Craig Bell Studio, the 8-member bluegrass loving "moonshine drinkin" herd of musicians called The Dang Ol' Tri'ole, complemented with Minnesota's hottest microbrewery -- Lift Bridge Brewery, as well as culinary delights from The Depot Renaissance's acclaimed chefs. The Day of Discovery event will take place in The Depot Renaissance lobby, Stone Arch Bar and Patio. The event is free to the public and designed to highlight some of the best of the Twin Cities. Day of Discovery will take place simultaneously with 155 Renaissance Hotels in 35 destinations around the world, celebrating the lifestyle hotel brand's second annual "Global Day of Discovery."
Additionally, a complimentary Charles Krug wine and cheese reception will take place in the hotel's art gallery from 3pm - 4pm on June 19th. Complimentary beer tasting will be from 4pm - 7pm. To satisfy that hunger urge, the hotel will feature beverage and food specials available for purchase throughout the evening, including Chef's famous Smoked Brisket.
Artist Craig Bell has developed over the years a highly unique form of artistic expression, often depicting nocturnal images of the urban landscape. Many of these artworks, which exude a sense of mystery, will be available for viewing at Day of Discovery. Lift Bridge Brewery is Minnesota's hottest microbrewery, crafting high quality brews in small batches to help one "slow down, kick back and just discover the joy of living." The Dang Ol' Tri'ole is an eight member bluegrass loving "moonshine drinkin" herd of musicians – and winners of The Depot Renaissance's First Annual "R Life Live Idol" competition held recently as part of the Summer of Discovery celebration. R Life Live featured eight aspiring artists/groups competing for the opportunity to win an entertainment contract for the summer with The Depot Renaissance Hotel.
For more information on The Depot Renaissance Minneapolis Hotel's "Day of Discovery" celebration, which is free to the public, contact 612-375-1700, or on Facebook, visit http://www.facebook.com/thedepotminneapolis.
The Depot Renaissance Minneapolis Hotel is owned and operated by CSM Lodging, a division of CSM Corporation, which a decade ago saved and restored the historic Victorian-era train depot building, converting it into a first rate, full service hotel. The highly successful restoration launched a historic movement in this region of Minneapolis. The Depot Renaissance Minneapolis Hotel is the flagship property within CSM Lodging's nationwide portfolio of hotels.
About The Depot Renaissance Minneapolis Hotel
Designed to enhance the enjoyment of traveling, the full-service The Depot Renaissance Minneapolis Hotel treats you to the history and unique architecture of a 19th century train depot. All the Renaissance guest rooms are detailed with comfortable and stylish furniture and luxurious bedding reflecting a modern take on historic charm.
Steeped in timeless charm, The Depot Renaissance Minneapolis Hotel is the perfect locale for your next getaway, business trip, or social function. We look forward to your next visit with us! For more information and for reservations, visit http://www.thedepotminneapolis.com. To become a fan on Facebook, visit http://www.facebook.com/thedepotminneapolis, or follow us on Twitter at http://www.twitter.com/depotmpls
About CSM Lodging
CSM Lodging, a division of CSM Corporation, acquires, develops and manages quality hospitality real estate investments within select markets across the United States. The company is known for their business ethos of treating their customers and associates with integrity and respect, and for their commitment to the future of the communities in which they live and work.
In 1994, CSM purchased its first hotel in St. Paul, Minnesota. By the end of 2002, CSM had opened 29 hotels and developed a presence in Minneapolis, Portland, Denver, Boston, Detroit, Seattle and Naples. Today, CSM Lodging manages 38 hotels nationwide and continues to achieve awards in design, openings, quality, sales excellence, marketing and revenue management.
CSM Lodging is part of the CSM Corporation family of companies, founded in 1976, which has engaged in the acquisition, development, leasing, management and ownership of quality real estate assets. The extensive portfolio includes retail, office & industrial, multi-family residential, and hotel properties across the United States.