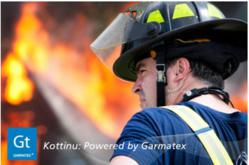 Vancouver, B.C. (PRWEB) June 06, 2013
In his 36 years as a firefighter, Darrell Smith has seen big changes in the gear he and his colleagues use in their dangerous work. Way back when, he says, standards for protective wear were not as stringent as they are today: "You could feel the heat when you went into a building — you could feel it on your ears."
Today's fire heroes are encased in personal protective equipment that totally insulates their entire bodies. That's good, says Smith, an assistant Fire Chief of the Burnaby Municipal Fire Department in British Columbia. But there's a catch to this new gear. "It keeps the heat inside of you," says Smith. "Today's firefighters are not dying because they are getting burnt in a fire. Firefighters are overheating and having heart attacks".
In fact, statistics show that heat/stress exhaustion leading to heart attack is the number one killer of firefighters across North America. Fire crews already work under the most demanding conditions, but factor in the heat and their job becomes even more perilous.
Ian Crosby, a wellness and fitness officer with a major metropolitan fire department, states that the super-heated environment adds an additional load to an already stressed cardiovascular system. "It is quite common to see firefighters' heart rates exceed their predicted maximum during strenuous, stressful work," he says. "This is why there is an increased risk of heart attacks among firefighters."
Given the challenges, it is small wonder that firefighters are extraordinarily careful about what they wear under their protective gear. They are guided by government occupational health and safety ("OHS") regulations that say "firefighters required to approach the seat of a fire or enter a structure or other hazardous area during an emergency incident must not wear shirts, trousers, jackets or coveralls that have poor thermal stability or that ignite easily."
The OHS regulations stipulate that all garments worn under outer protective clothing must be able to withstand temperatures up to 400 degrees F (204 degrees C) for a period of five minutes "without melting, dripping or igniting." In practice, this limits firefighters' choices of material.
Darrell Smith says most firefighters today still choose natural cotton, despite its shortcomings. But that may be about to change.
At his fire department, change has already come.
Two years or so ago, Smith says, his department began to source its T-shirts from a manufacturer of performance fabrics, Garmatex Technologies. The fabric, known under its proprietary name of Kottinu™, has all the comfort and feel of cotton, but also boasts some distinct advantages, including advanced wicking properties and an in-built resistance to bacteria. It stretches to accommodate the body's natural rhythms and survives repeated laundering without fading.
Kottinu's claims to be a world-leading technology took on an added significance in May when Garmatex announced the results of third-party independent tests of the material by a world-accredited testing facility.
Doug Thom, Chief Innovation Officer at Garmatex, said the test showed that Kottinu™ meets, and even exceeds, the requirements of Section 31.15 of the Occupational Health and Safety Regulations (British Columbia). "Kottinu™ was tested above the regulated 400F degree criteria and it didn't melt," says Thom. "So we have surpassed the pre-determined standard to keep a firefighter safe.
Natural cotton is "like a sponge," Thom says. "It doesn't evaporate the water. And because cotton doesn't dry, firefighters experience something like hypothermia. You will see them on the side of the road shaking like they are on the inside of a freezer." The effect is magnified by the extreme changes of temperature firefighters must endure.
"You can be leaving a 600-degree furnace (at the scene of a fire) and, even if the ambient temperature is 100 degrees, it still literally feels to them like its freezing."
"Nonetheless, firefighters want the cotton feel, they want the cotton look, it's their standard," says Thom. "But until now they have never had a shirt that feels like cotton and meets the safety standard."
Darrell Smith needs no persuading. He recalls attending a fire in the late spring. It was two in the morning and the crew were doing "rehab" — resting and cooling off before getting back to work. "The guys who had (Kottinu™ shirts) on were just fine," he recalls. "They had a good glow and were comfortable. But the guys in the cotton T-shirts, within 15 minutes they were looking around for jackets to put on because they were cold, they got a chill. It convinced me right away – you can't have cotton T-shirts."
"I'm not saying Kottinu™ is the be-all and end-all. But it's an aid; it helps. It pulls the sweat off and the guys stay fresher longer. If your muscles get chilled, you can hurt your back. This isn't going to happen with performance shirts. That sweat has worked off, and it's gone."
Chris Walker, a Fire Chief in a prominent municipality of British Columbia, who has been active in promoting the use of Kottinu™ within the firefighting community said; "I'm excited and proud to see a technological, performance-driven company taking the same kind of interest in First Responders as they do in competitive athletes. It means a lot to firefighters!"
Darren Berezowski, Garmatex's President, says; "The moisture management aspects of the fabric assist in helping the body moderate the effects of excessive heat buildup as well as regulating the cooling process so there is a less dramatic effect on the body during the rehab/cool down period." Berezowski added; "These dynamic performance aspects combined with the "cotton-like" comfort and feel of the fabric is what the firefighters find most impressive."
Veteran firefighter Darrell Smith says the "great news" about the thermal stability of the Kottinu™ shirts means his department "will be buying again." He predicts a lot of other fire departments will do the same "once they are enlightened on what this product is."
About Garmatex Technologies, Inc.
Garmatex empowers Brands through textile performance and innovation. We help our customers meet their most difficult product challenges with our intelligent, dynamic fiberithm process. Our performance technologies and fabrics: Kottinu™, T3®, Bact-Out®, Coolskin®, Warmskin®, Coldskin™, Steelskin™, Satinu™, Slimskin™, Camoskin™ and Recoveryskin™ have proven to be superior to any like products available in the market for comfort, fit and performance and are engineered using our proprietary "Moisture System Transference" (MST) process which provides unrivaled moisture management control. Garmatex's ground-breaking Kottinu™ fabric, with its amazing "cotton-like" comfort and feel, delivers unparalleled performance in moisture management, lasts 6 times longer than cotton, maintains color sharpness with minimal fade and is a viable alternative to cotton in any application where the inferior attributes of cotton have been considered "the standard". Our patented T3® triple-gusset shirt construction, which allows complete 360 degree mobility of the shoulder without restriction or shirt binding, is the first garment construction design patent granted in decades.
Contact Information
Garmatex Technologies, Inc.
http://www.garmatex.com
Media Relations
Garmatex Technologies, Inc.
Canada: 604.575.0366
USA: 714.519.3445
media(at)garmatex(dot)com
Forward-Looking Statement Disclaimer
Statements contained in the Article that are not historical facts are forward-looking statements, which are subject to a number of known and unknown risks, uncertainness and other factors that may cause the actual results to differ materially from those anticipated in our forward looking statements. Although we believe that the expectations in our forward looking statements are reasonable, actual results may vary, and we cannot guarantee future results, levels of activity, performance or achievements.
Legal Disclaimer/Disclosure: A fee has been paid for the production and distribution of this Report. This document is not and should not be construed as an offer to sell or the solicitation of an offer to purchase or subscribe for any investment. No information in this article should be construed as individualized investment advice. A licensed financial advisor should be consulted prior to making any investment decision. Financial Press makes no guarantee, representation or warranty and accepts no responsibility or liability as to its accuracy or completeness. Expressions of opinion are those of the author's only and are subject to change without notice. Financial Press assumes no warranty, liability or guarantee for the current relevance, correctness or completeness of any information provided within this article and will not be held liable for the consequence of reliance upon any opinion or statement contained herein or any omission. Furthermore, we assume no liability for any direct or indirect loss or damage or, in particular, for lost profit, which you may incur as a result of the use and existence of the information, provided within this article.