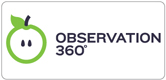 SALT LAKE CITY (PRWEB) June 06, 2013
School Improvement Network, the leader in educator effectiveness resources, today announced new reporting capabilities that give administrators unprecedented access to teacher observation data and reporting through Observation 360.
"To truly foster educator effectiveness and spur growth, teacher observations and evaluations must be about more than just compliance," said Chet Linton, School Improvement Network CEO and president. "By giving administrators access to teacher observation data in connection to templates for measuring results over time and other resources that stimulate continued growth, Observation 360's reporting capabilities give administrators the tools they need to support their educators towards becoming as effective as possible and having tangible impacts on student achievement."
Observation 360 is a classroom observation platform that allows administrators to conduct teacher observations and link personalized professional learning to those observations.
Through the new end-of-year reporting enhancements, Observation 360 users will have access to the following:

Sub-response reporting on applicable reports
Ability to include archived teacher observations in reports
New Processes Data Export
Redesign of Observation Data Export report
Comments accessible in the Results Over Time by Template report
Redesign and preview functionality added to the report selection page
Click here for a free trial of Observation 360.
Click here to see observation templates by education experts available exclusively on Observation 360.
Click here to see the holistic system for increasing educator effectiveness.
About School Improvement Network
Founded in 1991 by teachers, School Improvement Network has spent decades researching and documenting the best practices in education. From this research, School Improvement Network has developed the Educator Effectiveness System. This system delivers a process to improve teacher practice, and gives educators a set of powerful tools to drive the process. Research shows that districts and schools that use the tools in the Educator Effectiveness System produce better teachers and, as a result, experience dramatic increases in student achievement, driving up student test scores by as much as 30 percent in a single year. School Improvement Network works with thousands of schools and districts in every state and around the world and has visited over 3,500 classrooms to document best practices in action. Learn more at http://www.schoolimprovement.com.
School Improvement Network and its logos are trademarks of School Improvement Network. All other trademarks and registered trademarks are the property of their respective owners.