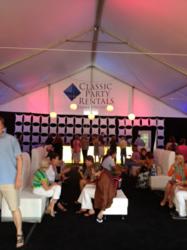 "Classic Party Rentals has been a valued partner since our first year of Live at the Garden," says Sherry Misner, co-director. "Their staff's knowledge and expertise has helped us make Live the unique Memphis experience it has become."
Memphis, TN (PRWEB) June 06, 2013
There are few things that truly embody what it means to be "classic," but singer Tony Bennett is a true American classic even at 86 years old. Another is the party rental company that helped Live at the Garden welcome Bennett to Memphis this past Sunday night. Live at the Garden is a star-studded concert series that will be rockin' Tennessee all summer long.
Despite a 24-hour rain delay, the 13th season of Live at the Garden kicked off Sunday, June 2nd, and Classic Party Rentals furnished the VIP tents and all the table seating. The five-date concert series, which takes place in the lush and beautiful Memphis Botanic Garden, will keep the star wattage bright with performances by Earth, Wind & Fire on June 15th, Robert Plant presents The Sensational Space Shifters on July 13th, The Band Perry on August 23rd and Foreigner on September 20th.
Originally named Grand Event Rentals, the Memphis branch of Classic Party Rentals has been involved with Live at the Garden from the very beginning and is thrilled about the partnership. "We are one of the charter sponsors that helped get this event off the ground 13 years ago," says Stan White, general manager of Classic Party Rentals Memphis. "Today, it is the best summer event to attend in Memphis."
Classic provides a 3,000-square-foot VIP tent for each concert. The VIP tents feature Classic Party Rentals products and gear from top to bottom – or rather, from tent top to carpeted level floor. Classic is responsible for the lighting, bars, food service tables, linens, furniture, props, décor, and even the air conditioning. Classic rents all the frame tents on the property as well.
The VIP tents are only the beginning for Classic Memphis. The company erects 200 round tables with linens, which serve as seating for more than 2,000 people. The lawns behind the tables accommodate another 4,600. Classic Memphis helped more than 6,500 adoring Memphians gather to listen to the dulcet tones of one of America's greatest singing treasures and be there again four more times this summer.
"Classic Party Rentals has been a valued partner since our first year of Live at the Garden," says Sherry Misner, co-director of Live at the Garden. "Their staff's knowledge and expertise has helped us make Live the unique Memphis experience it has become."
ABOUT CLASSIC PARTY RENTALS
Classic Party Rentals is the nation's leading full service event rental company. Classic services most major markets including San Francisco, Los Angeles, Chicago, Dallas, Phoenix, New York, and Pompano Beach. Its high-profile event roster includes more than 180,000 major sporting events, brand promotion tours, Hollywood awards shows, movie premieres, celebrity weddings, charity events and private social events annually. Locally, each Classic Party Rentals location is recognized as an integral part of successful holiday celebrations at home and at work, backyard weddings and birthday parties, school and church functions, local food and wine festivals, and many community service benefits. Classic Party Rentals is also a leading nationwide provider of tents, clear span structures, power, heating, air conditioning and sub-flooring. Ultimately, there is no need to lose sleep over the details. If you can dream it, Classic Party Rentals can deliver it. We do business under a number of different names, and customers are never disappointed by our Blue Diamond service or the strength of our partners will bring to events. For more information, please visit ClassicPartyRentals.com. "Choose Wisely Choose Classic. Feel Secure…No Event too Big or too Small; we do them all."
ABOUT LIVE AT THE GARDEN
Live at the Garden is a five-show summer concert series held at the Memphis Botanic Garden that dates back 13 summers. Beginning June 5, 2001 with the first performer, Memphis' own Issac Hayes, Live has grown into one of the most successful outdoor entertainment venues in the United States, voted by Memphians as Best Event in Memphis last year. Live is a series of five concerts, beginning in June and continuing through fall each year. Season tables and season lawn tickets are hot commodities. With music as diverse as the 26 unique specialty gardens, Live at the Garden is a music-lover's dream come true, complete with a star-studded lineup and 96 acres of unsurpassed natural beauty at the Memphis Botanic Garden. All you need is an appetite for fun and we'll bring the stars. Join us as we continue Memphis' coolest tradition - Live at the Garden is an experience you won't want to miss!