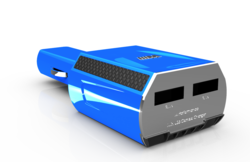 The Fastest Car Charger On The Planet - Casemachine Twin 2.1A dual usb combo car and wall charger
Miami, FL (PRWEB) June 07, 2013
The company revealed the Casemachine M Charger earlier in April and now prepares to release the US variant of the charger. With the auto charger, the company hopes to diversify its product range and offer premium smartphone solutions which provide dependable performance on the go. The M charger will be available in five exclusive colors of the BMW M series.
On the rear lip are two USB 2.1A ports for simultaneous charging of smartphones, PDAs and/or tablets. The Cross Circuit technology does not let the performance of the car charger compromise at any cost, and both the devices get charged in a time span which is one of the lowest times taken by a portable auto charger to date. The charger has the official logo of BMW "M" series on its upper lip surrounded with diagonal bends to give the Casemachine M Charger a compelling look from the front while it is plugged in.
Independent tests revealed that the charger delivers outstanding results. Continuing the tradition of the BMW lineup, the Casemachine M Charger proves to charge devices up to twice as fast as the competition. The current production is for an elite, limited edition batch of 110 USA variants of the charger coming with standard US car volt plugs. The company also aims to release the European and Asian variants for the auto charger soon. On the bottom is the standard wall plug which can be used to recharge devices from a standard power outlet.
The Casemachine M Charger has black oxide plugs which provide a stable power supply and recharge the attached device faster than other car chargers available in the market. There are two carbon fiber strips placed on either angular side of the charger. The carbon fiber strips provide an elegant look and the right feel of a car charger which takes BMW super performance automobiles as its inspiration.
The Casemachine M Charger will be exclusive to BMW North America and other selected platinum distributors. For further information regarding the charger, please contact Casemachine, LLC at 786-245-4466.
About the Company
Casemachine, LLC is a smartphone accessories maker situated in the USA. Founded in 2010 in Miami, Florida, the company is now one of the largest selling brands of Aluminum-TPU hybrids in its country of origin. Casemachine was also present at the International CTIA Show held from the 21st of May to the 24th where it provided latest smartphone solutions to provide an elevated user experience.