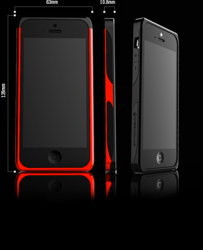 The very light weight Casemachine Berlinetta Case for Apple iPhone 5
Miami, FL (PRWEB) June 08, 2013
The Berlinetta sports an easy screw-on assembly nature. The designers have kept the screw hinges wide which helps reduce significant amounts of time. The screw-on assembly ensures the phone stays in place and withstands all normal and abnormal shocks without bearing any damages. The case has an aluminum body, carefully designed by Casemachine's expert mechanical and designing engineers.
"Making an aluminum hybrid without letting the signal reception get affected was quite a challenge," said the President of Casemachine, LLC in a conference. "We spent days and nights working and researching, just to find that perfect combination which would make the signals immune to the lightweight and exotic aluminum surrounding it." He further added, "Then we came up with a solution which made the Berlinetta Case for Apple iPhone 5 possible – silicone. The injection molded space grade silicone housing triples in function by providing a logo sleep/awake soft touch button, an integrated volume switch and acts as a touch friendly grip, thus not letting the aluminum touch the rear panel of the iPhone."
The Casemachine Berlinetta Case for Apple iPhone 5 promises unmatched scratch resistance, thanks to its CNC machined billet aluminum frame and bezel. The case is designed to keep a minimalistic profile of the iPhone 5, without affecting its own inherent beauty. This is why exotic materials such as aircraft grade aluminum are used to provide premium protection without letting the phone feel bulky while holding.
On the top, the soft touch, elaborate silicone logo power button is situated to protect the original sleep/awake button of the iPhone from scratches and heavy wear and tear. A stylish and responsive volume switch is added on the left which are available in three colors along with the rest of the housing available with the Casemachine Berlinetta Case for Apple iPhone 5. For the rear panel, users can purchase the Alcantara Suede backplate, which again helps keep the total mass of the Berlinetta at the minimal without compromising on its durability and style. The backplate is available in rich black color.
The bezel and the frame have curves which perfectly complement each other and maintain an even balance for the chosen color combination on the front and the rear. The bezel is available in nine rich shades including Black, Blue, Graphite and Silver for customization to the front, the bottom and on the sides. The frame is available in two shades which make a contrast with the bezel's shade on the side and add further detailing to the borders on the rear side.
The Casemachine Berlinetta Case for Apple iPhone 5 is set to be shipped worldwide on May 27. However, the company has made the case available on pre order through the official Casemachine store. For further assistance on the Berlinetta, contact the customer support via Skype at CasemachineCS.