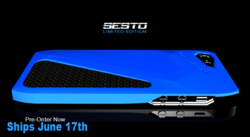 An exotic case by Casemachine. Derived from automotive inspired design.
Miami, FL (PRWEB) June 11, 2013
Casemachine introduced the Sesto to its iPhone case family earlier this year in March, when it was revealed by the company's president. Through the Casemachine Sesto Case for Apple iPhone 5, the company hopes to maintain a balance in its offerings by introducing another snap-on case in contrast to the recently launched i5 Slimline Flex Case which has a slip-on assembly.
The company states they created the Casemachine Sesto Case for Apple iPhone 5 for people who find it difficult to pull their phones out of their pockets with a case on. With the Sesto, it is very easy to slip your phone back in and take it out without any hassle. This is because the polymer used on the case is coated with automotive PPG coating to give it a sleek finish.
The Casemachine Sesto Case for Apple iPhone 5 is accented with aluminum inlays which won't have an impact on the signal reception and data speeds. The chief mechanical designer at Casemachine said, "We understand how fragile the antennas on the new iPhone 5 are to materials such as aluminum – this is why we marked key spots which do not really impact signal reception even if they are covered by aluminum or perhaps carbon fiber. The Sesto is a success, and a message to all those who thought that innovation can't enhance the overall user experience."
The Sesto Case for Apple iPhone 5 is an upper-end, polymer-aluminum composite case which is a limited edition introduction to the Casemachine family. The backplate is made of impact elastic polymer with a real machined carbon fiber inlay for further styling. The front bezel on the Sesto is CNC machined, anodized aluminum which provides durable scratch and shock resistance to the phone's front panel.
To keep the iPhone firmly in place, Casemachine has also added a TPU liner on the inside of the backplate. This ensures the case sits perfectly with the phone's body, and quickly absorbs significant shocks without bringing any harm to the iPhone. The Casemachine Sesto Case for Apple iPhone 5 is available in four different colors which exudates racecar inspiration.
For further assistance regarding the Sesto case, contact Casemachine's customer support at 786-245-4466.