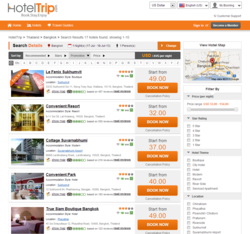 HotelTrip.com is now the one stop OTA for online booking- it guarantees the lowest rates and detailed insight for travelers.
Bangkok, Thailand (PRWEB) June 13, 2013
Recognizing that online transactions can often be challenging to online users who may not be IT savvy or who do not possess the latest desktop, laptop or smartphone to navigate the online contents with ease, HotelTrip.com has been developed to take the hassle out of online transactions. As decisions can only be made in confidence with clear information, HotelTrip.com has provided in-depth and yet concise hotel information contents along with rate offerings and independent guest reviews to support well-informed travel decisions without hesitation.
Managed by hospitality professionals with extensive market knowledge and travel expertise, HotelTrip.com is firmly committed to assuring strong customer values at all times, featuring multilingual websites specially designed for local market conditions and 24/7 multilingual customer service assistance.‬‬
Striving for innovation, HotelTrip.com has a range of customer benefits such as, to name a few:

High speed search results
Highly secured online transactions and safeguards
Engaging hotel information contents that include travel guides and forums
Best rate offerings
Loyalty rewards programme with countless benefits
Multiple room type selection under one reservation
Mobile application integration
Social media interface with exciting competitions and noteworthy updates
24/7 multilingual customer service assistance
Simple three-step check-out process
Working with our trade partners, HotelTrip.com is as effective and efficient with our partners as it is with our online users. The reservation system is fully integrated for booking transactions and notifications, secured payment options, promotions, business transactional analysis and reporting.
HotelTrip.com constantly updates its hotel database and currently has over 35,000 hotels in Asia, including Thailand, Singapore, Hong Kong and Malaysia. As Asian economies continue to flourish through tourism and commerce, HotelTrip.com plans to make travels and booking a whole lot simpler.
About HotelTrip.com
HotelTrip.com is owned by HotelTrip Company Limited which is headquartered in Thailand. It is a fully integrated online travel agency managed by hospitality professionals with extensive online experience. Starting with South East Asia, HotelTrip.com plans to expand to the Asia-Pacific region and beyond.
Please check out http://www.hoteltrip.com for more details. For more information, please call Mr. Bruno Bourdin, General Manager, Tel. (66 2) 126 8288.