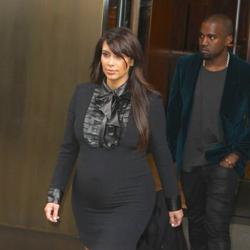 (PRWEB) June 07, 2013
Celebrity News from Peculiar Magazine focuses heavily pregnant reality star Kim Kardashian. Kim Kardashian reality tv star from "Keeping Up With The Kardashians" is pregnant for her Boyfriend Kanye West and they are both expecting a child in July, recently found out the gender of her child which is a "Girl".
Find Excerpts of the article Below:
The 32-year-old star – who is expecting her first child with boyfriend Kanye West in July – found out the gender of her forthcoming little one at a doctor's appointment for her 19-week check-up, which has now been aired on her reality show, 'Keeping Up with the Kardashians'.
During the episode – the eighth season premiere of the program – Kim's mother Kris Jenner asks: "Do you see a little peepee?"
Physician Dr. Paul Crane responds: "I don't see any peepees. I'm thinking it's a girl."
Kim asks: "What's the percentage?"
And Dr. Crane responds: "99 plus."
Kim then adds: "99 plus? So I can tell people it's a girl?"
The brunette beauty is delighted to be expecting a girl and admitted Kanye, 35, has "always wanted" a daughter.
Find the rest of the article HERE