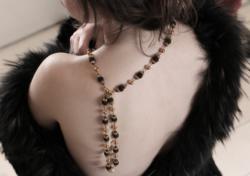 Expression Jewellery is not about yesterday or tomorrow, it is about forever.
London, UK (PRWEB UK) 7 June 2013
Tell us about the story behind Expression Jewellery…
Expression Jewellery was founded in 2007, unlike most it didn't start as a hobby, I knew that I wanted to design jewellery right from the start, being self taught as well, I was already quite confident and instinctively knew I would be good at it as I was always very creative at Art School and was a Graphic Designer in the 90's.
I worked on perfecting my skills and learnt about the different materials and stones that I would eventually use in my work. I think back then I became frustrated as it was more about what was in season and keeping up with the latest trends. I wanted to bring back jewellery that was delicate, graceful and timeless and so Expression Jewellery was born. I chose the name as I wanted it to reflect on just that "Expression".
What is the ethos behind the brand?
'Adorning Oneself'. Using Jewellery to enhance your looks, your day, your life. Handmade Jewellery, where the craftmanship shows detail, thought and individualism. I feel that customers are embracing the comeback of elegant and classic pieces that says who they are and how they feel, because each piece is made by hand with no machinery involved, the jewellery is limited and only up to twenty-five pieces would be made, which is why every single design comes with a signed Certificate of Authenticity.
Great care is taken in how the jewellery looks and so great care should be taken in its presentation as well.
Expression Jewellery is not about yesterday or tomorrow, it is about forever.
The fashion industry is tough, can you tell us about your journey so far?
I love fashion and always will, however I have never felt under any pressure to keep up to date with the current trends regarding jewellery. Over the years I have collected a lot of information when travelling and bring back any influences I may have encountered during my journeys. It is hard to stay focused and not feel down heartened at times as it is a big world out there and you do feel swamped. I try not to lose sight of what I am doing and most importantly why I am doing it.
My brother is an Artistic Savant, and of course has had his own challenges due to autism, he is successful and motivated and his favourite motto is: "Do the best you can and never stop". So I do what feels right and when it is difficult, I take a break, reflect and start again.
When designing, what inspires you?
I have always loved Victorian, Georgian, Edwardian and especially Art deco style, whether simplistic or ornate, it has always excited me. Travelling on the bus every day I see examples all around me of beautiiful archicture, which I study and try to make into my own rendition of Modern, Victorian and Art Deco pieces.
In 2013, what can we expect to see from you?
I am currently working on new designs for next year, which will be bold, still adopting the delicate theme and will also be exhibiting my jewellery at the Somerset House based in The Strand, London on the 11-12 June 2013. A two day event in the heart of London. I will be sharing this event with the likes of Lalique, Carat*, Chavin Jewellery and many more.
Which other designers do you admire?
My favourite designer is Miguel Ases, a Spanish designer now living in New York, his designs are inspired by Spanish archictecture, using intricate beadwork, almost mosaic like. Michelle Obama has been photographed wearing his jewellery.
Tell us about your most popular design?
My most popular design has to be the 'Wilderness Collection' and the 'Glam Rock' bracelets. Customers like the story that inspired me to do Wilderness.
My parents are from the West-Indies and as a child I grew up playing with my cousins in unkept fields, with wild hybiscus flowers, passion fruit flowers and bird of paradise, which I actually forgot about until four years ago when I went to the South of Spain to a beautiful place called Elviria, which is now my second home and there they had wild poppies, hybiscus and bird of paradise growing freely by the side of the road. It reminded me of my time growing up, therefore I had to somehow reflect that into my design.
When designing Glam Rock, I wanted to do something playful, although still keeping to my signature style, not losing the elegance and delicateness that I feel is important with my pieces, so I used leather with elegant clasps, instead of studs, which is common in most leather bracelets.
To date, what has been your career highlight?
I have always been a creative person and my career has been varied, however what I am doing now allows me to challenge my thoughts, address it and then make it a reality.
In life we all have dreams, the real beauty is making that dream become a reality. I think that in itself is very powerful and if you are able to do this, then I believe everyone should give themselves a pat on the back. How many times have we had to pick ourselves off the ground only to be knocked down again?
This year is particularly exciting as The London Jewellery Show handpick their exhibitors to ensure high quality design and originality, which makes me feel honoured to be a part of the event as every piece of work I do is with passion. I am a perfectionist, if it is not right, I start again until it is right, even down to naming each piece, this needs to have a connection to what I am creating and can sometimes take a couple of weeks before I title my pieces.
Where can people find out more?
My website: http://www.expressionjewellery.co.uk and my work is also on permanent display at The Stephen Wiltshire Gallery in the Royal Opera Arcade, London, SW1Y 4UY.
Tel: 0207 321 2622