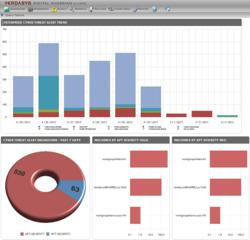 National Harbor, MD (PRWEB) June 07, 2013
Verdasys is showcasing at the Gartner Security & Risk Management Summit this week a new Managed Service for Cyber Defense (MSCD), the first endpoint focused managed service for real-time visibility into cyber attacks on laptops, desktops and servers with advanced incident correlation, prevention and containment controls designed to stop malware from stealing sensitive information. The new outsourced service integrates with leading network security solutions to automatically verify and contain threats on endpoints both on and off the corporate network and is available immediately. Additionally, Verdasys announced availability of a new white paper: "Cyber Attack Defense: a Kill Chain Strategy," available via free download at http://www2.verdasys.com/verdasys-cyber-threat-whitepaper-PR.
As a fully managed service, MCSD allows IT groups to benefit from the expertise of the Verdasys MSCD team practiced in providing insider attack and cyber attack prevention, detection and containment serving more than 240 global 2000 customers and government agencies for over a decade. With no additional headcount or hardware required -- and without the need to learn and manage multiple defensive and forensic tools -- organizations can rely on the new managed service to help gain unprecedented control over data that hackers covet, ensuring the organization's ability to stay on top of changing threats, build and deploy defensive policies and stop advanced malware from stealing sensitive data.
Verdasys' MSCD leverages its Digital Guardian Enterprise Information Protection platform, the only platform-based data protection solution that utilizes a "Kill Chain" defense to prevent, detect, contain and investigate Advanced Persistent Threats (APT) and other data targeted cyber attacks. "With deep session visibility and the ability to deploy defensive controls across all stages of an attack independent of infrastructure, we're able to detect and contain sophisticated malware attacks regardless of host system location extending protection to a critical weak point – when these systems are off the network," said Verdasys Vice President of Marketing Bill Munroe. "In the case of sophisticated attacks, one or more defensive layers is likely to be bypassed or compromised. A 'kill chain' defensive strategy combined with fast, effective containment controls are critical to effectively defend against these attacks." MSCD, based on Verdasys Digital Guardian, provides visibility across Windows, Linux and MAC host systems, memory DNA in Windows systems, Virtual environments and all ports across the network.
Verdasys MSCD is available in North America and Europe. For more information about MSCD, please contact Verdasys at http://www.verdasys.com/solutions/mscd.html.
About Gartner Security & Risk Management Summit
The Gartner Security & Risk Management Summit features four programs focusing on Security, Risk Management and Compliance, Business Continuity Management, and chief information security officer (CISO) roles to deliver detailed, role-specific content and networking. Each program offers a full agenda of analyst sessions, keynotes, round-table discussions, case studies, workshops and more. Additional information is available at http://www.gartner.com/us/itsecurity
About Verdasys
Verdasys (http://verdasys.com) provides Enterprise Information Protection solutions and managed services to secure sensitive data and assure the integrity of business processes, enabling midsize and global businesses to successfully compete in collaborative and mobile environments. Digital Guardian, a Leader in Gartner's Magic Quadrant for Content-Aware Data Loss Prevention, is a proven technology platform that provides complete, policy-based data lifecycle monitoring, classification, control and forensics on endpoints and servers, virtual machines and enterprise applications, networks, mobile devices and cloud environments. Digital Guardian protects IP and regulated data from compromise by insiders, contractors, partners and targeted cyber attacks. Since 2003, millions of Digital Guardian agents have been deployed to protect critical data for global leaders in manufacturing, pharmaceuticals, high technology, energy, financial services and government.
# # #
Contact: Betsy Kosheff, 413-232-7057 bkosheff(at)verdasys(dot)com