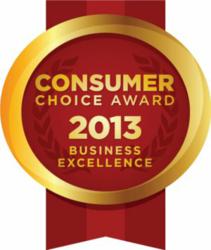 We're delighted.
Toronto, Ontario, Canada (PRWEB) June 06, 2013
Imperial Coffee and Services Inc. has been selected the 2013 Consumer Choice Award winner in the category of Coffee Service and Supplies for the city of Toronto and surrounding areas.
Consumer Choice Award (CCA) was established in 1987 and is considered the most distinguished award for business excellence in Canada.
Imperial Coffee and Services Inc.'s award is the result of an independent market research survey conducted by Leger Marketing. It involved voting by: the general population (over 1000 qualified consumers); top ranking managers of small or medium sized businesses with less than 250 employees; and hundreds of construction industries decision makers, the consumers and businesses.
Imperial Coffee and Services Inc., already Ontario's leading supplier of coffee, vending and water services, now joins a very select group of business owners and entrepreneurs recognized for our business excellence.
"We're delighted with this award because it confirms that we always go the extra mile for our customers," said Mark Steiner, President of Imperial Coffee and Services. One example is cited on the company's website: a customer called on Boxing Day and was surprised to have the call answered by a Regional Manager who personally replaced a coffee machine within an hour. "That sort of over-the-top service is why so many customers have been with us for so many years," said Steiner.
Imperial Office Coffee and Services is equally proud that 61 of its 150 employees have been with the company for more than 10 years, said Steiner.
Imperial Coffee and Services Inc.'s leadership extends to corporate social responsibility. It recently added to its product offerings Café Femenino, an organic and Free Trade coffee produced by a women's collective in Guatemala. It's a social development project that benefits women afar, and also in at home through a partnership with the Canadian Breast Cancer Foundation – Ontario Region.
The company was also long been the industry leader in environmental initiatives, with a "go green" mandate in everything it does. Imperial Coffee and Services Inc. has partnered with the Rainforest Alliance, Bullfrog Power, and the Terracycle recycling project.