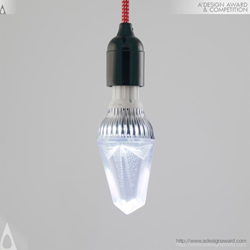 Como, Italy (PRWEB) June 09, 2013
A' Design Award and Competitions are pleased to share that the work Printed Bulbs by Eric Brockmeyer and Karl Willis has been announced as a winner of the notable Platinum A' Design Award at Lighting Products and Lighting Projects Design Category and furthermore marked as one of the winners by the transnational referees within thousands of submissions.
Insights on Printed Bulbs
Eric Brockmeyer and Karl Willis explain that Printed Bulbs design explores new forms for light bulbs that reimagine the conventional 'Edison bulb' with a specialized 3D printing process. Within the clear bulb material, internal structures are carefully designed to guide and reflect light. These techniques can be fabricated entirely in a 3D printer to enable new form-factors for lighting design. Each light bulb can be attached to any existing lighting fixture, such as a chandelier or desk lamp, or used individually as a pendant lamp or free-standing light.
To explore more about project, please visit: http://www.adesignaward.com/design.php?ID=27060.
The Platinum A' Design Award
The Platinum A' Design Award is a prestigious award given to top 1% percentile designs that have exhibited an exemplary level of greatness in design. The designs are judged by a panel of three different jury which is composed of Academic, Professional and Focus Group Members. The designs are evaluated with score normalization to remove any biases and are voted on aspects such as functionality, ergonomics, engineering, presentation, innovation, usability, fun details, technology, and any other specific points that could be considered, each of these points are further weighted for different jury groups.
About A' Design Award and Competitions
A' Design Award and Competitions aims to highlight the excellent qualifications of best designs, design concepts and design oriented products. A' Design Award and Competitions are organized and awarded annually and internationally in multiple categories to reach a wide, design-oriented audience. To learn more, visit: http://www.whatisadesignaward.com.