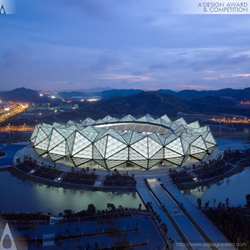 Como, Italy (PRWEB) June 10, 2013
A' Design Award and Competitions are proud to inform that the design Shenzhen Universiade Sports Center by Conceptlicht GmbH has been granted the renowned Platinum A' Design Award in Lighting Products and Lighting Projects Design Category and elected as one of the winners by the international awarding commission among numerous participants.
Regarding Shenzhen Universiade Sports Center
The Universiade Sports Center in Shenzhen, China is a building complex dominated by crystalline shapes. The facades are evenly back-lit with dimmable LED lines that are integrated within the steel structure. The luminaries are constructed thoughtfully, so that the light sources are not obviously visible, no matter from which angle they are seen. Otherwise, the clear structure would vanish, as the soft reflection of the light would be superimposed by glaring light spots. This prevents scattering of the light and furthermore allows to create a "calm space" by making darker areas only being lit by soft reflections.
To learn more, please visit http://www.adesignaward.com/design.php?ID=27725.
Team Members of Conceptlicht GmbH
Shenzhen Universiade Sports Center was designed by Helmut Angerer Jan Nielsen.
The Platinum A' Design Award
The Platinum A' Design Award is a prestigious award given to top one percentile designs that has exhibited an exemplary level of quality in design. The designs are judged by a panel of three different juries which is composed of Academic, Professional and Focus Group Members. The designs are evaluated with score normalization to remove any biases and are voted on aspects such as functionality, ergonomics, engineering, presentation, innovation, usability, fun details, technology, and any other specific points that could be considered, each of these points are further weighted for different jury groups.
About A' Design Award and Competitions
A' Design Award and Competitions, aims to highlight the excellent qualifications of best designs, design concepts and design-oriented products. A' Design Award and Competitions are organized and awarded annually and internationally in multiple categories to reach a wide, design-oriented audience. To learn more, visit http://www.whatisadesignaward.com.