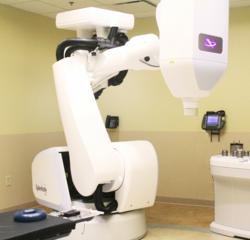 Clinical data has shown CyberKnife can offer effective treatment of lung tumors while carrying a low risk of side effects.
LOUISVILLE, Ky. (PRWEB) June 06, 2013
Lung cancer incidence and mortality rates in Kentucky rank highest in the nation, the American Cancer Society reports. Men make up the majority of these cases as the disease kills more men in Kentucky than prostate cancer, colon cancer and pancreatic cancer combined.
Louisville CyberKnife joins a national effort during Men's Health Month to promote early detection and treatment of disease and raise awareness of common preventable male health issues.
For Kentuckiana men facing a lung cancer diagnosis, treatment can be found close to home. Louisville CyberKnife treats tumors with a nonsurgical procedure called stereotactic body radiation therapy (SBRT) using CyberKnife® technology. During the procedure, the CyberKnife delivers highly focused beams of radiation to tumors with sub-millimeter accuracy.
The CyberKnife program expands local treatment options and was the first of its kind in Louisville. More than 100 lung cancer patients have been treated at the center since opening, accounting for 32 percent of total cases.
"Having a variety of lung cancer treatment options is particularly important in Kentucky given the prevalence of the disease statewide," Louisville CyberKnife radiation oncologist and lung cancer specialist Dr. Neal Dunlap said. "Clinical data has shown CyberKnife can offer effective treatment of lung tumors while carrying a low risk of side effects."
Used to treat tumors throughout the body, CyberKnife has an added benefit in the treatment of lung tumors. The machine's ability to track tumors in real time and adjust for patient movement during treatment minimizes damage to healthy tissue around a tumor. Treatment is completed in five or fewer sessions, compared to the 40 treatments typically required with traditional radiation therapy.
"The most common treatment for lung cancer is the removal of all or part of a patient's affected lung through surgery. However some patients may require or request an alternative," Dr. Dunlap said. "For example, patients in poor general health or with a concern for potential side effects that could impact quality of life can typically turn to radiation therapy."
Louisville CyberKnife is part of a network of partners working to improve lung health. The center is a service of the James Graham Brown Cancer Center, part of KentuckyOne Health, which was recently the first in Kentucky to meet the Lung Cancer Alliance National Framework for Lung Screening Excellence for its low-dose CT screening. Dr. Dunlap is principal investigator of a clinical trial sponsored by the Brown Cancer Center, evaluating four-dimensional pre-treatment CT scanning for lung cancer patients.
While the disease is considered the deadliest, it is also the most preventable. Dr. Dunlap suggests committing to a smoking cessation plan, avoiding secondhand smoke and routinely monitoring for radon in the home.
"Regular exposure to secondhand smoke can increase the risk of lung cancer by 20 to 30 percent," Dr. Dunlap said. "If you have a loved one who smokes, encourage them to quit for their health and yours."
Louisville CyberKnife at the James Graham Brown Cancer Center is located at 529 S. Jackson St., Louisville, Ky. 40202. For more information, call (502) 217-8200.