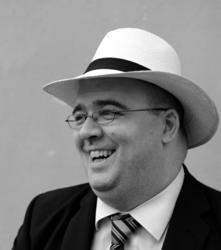 Around 21.6% of the world's Internet users are located in Europe and it is vital that their needs are represented in this forum
Carlow,Ireland (PRWEB) June 06, 2013
Michele Neylon, CEO of Blacknight, announces his election as Chair of the Registrar Stakeholder Group of ICANN (International Corporation for Assigned Names and Numbers), the first European to ever hold the position.
The Registrar Stakeholder Group (RrSG) is one of several Stakeholder Groups within the ICANN community and is the representative body of domain name Registrars worldwide. It is a diverse and active group that works to ensure the interests of Registrars and their customers are effectively advanced.
The chair, in consultation with the executive committee and members, organises the work of the Stakeholder Group and conducts RrSG meetings. The chair often confers with others in the ICANN community on Registrar-related policy and business issues, and is the primary point of contact between the RrSG and ICANN staff. Neylon has previously served as the Secretary to the RrSG and is the only European member of the executive committee.
Michele Neylon states: "It is an honour to have been elected Chair of the Registrar Stakeholder Group. Acting as an executive member of this group has been a valuable experience and I look forward to continuing to do excellent work with a great team."
Neylon was first elected to the RSG on October 16th 2012. He has long been a trusted member and advisor to the Internet governance community and is in excellent standing within the ICANN community. Neylon's election as Chair of the RSG came as no surprise and was agreed upon unanimously by its members.
Neylon continues: "As the group's only European executive member and the CEO of Ireland's leading domain registrar and hosting company, I bring a unique but vital perspective to the team. Around 21.6% of the world's Internet users are located in Europe and it is vital that their needs are represented in this forum."
"Congratulations to Michele Neylon on his election as Chair of the RrSG...with all of his years of participation in Internet governance and ICANN, I can think of no one more qualified for this post and look forward to his successful leadership of the group during this critical time, " said Matt Serlin, outgoing Chair of the RrS.
Since the formation of ICANN, the Registrar Stakeholder Group has been the voice and advocacy organisation for Registrars and their customers and has played a very active role in policy development and other ICANN processes.
For more information on the ICANN Registrar Stakeholder Group, please visit http://www.icannregistrars.org/about/
To learn more about Michele Neylon and Blacknight please visit http://www.blacknight.com
About Blacknight:
Blacknight (http://www.blacknight.com/) are an Irish based, ICANN accredited domain registrar and hosting company. Recipients of several awards for their revolutionary use of social media, Blacknight are one of Europe's most cutting edge Internet companies. Blacknight constantly seek to lead the way by introducing innovative solutions for its client base and provide dedicated servers and co-location as well as a comprehensive range of Microsoft Windows and Linux based hosting plans and domain name registration services to business globally. IP transit services and other solutions for more demanding business and academic customers are offered a la carte.