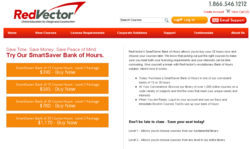 We know our clients are very busy and we're always looking for ways to make them rest a little easier when it comes to ensuring their education needs are taken care of. – Victoria Zambito, President, RedVector B2P
Tampa, FL (PRWEB) June 13, 2013
RedVector.com, the leader in online continuing education and workforce training solutions for the architecture, engineering, and construction (AEC) industry, now offers the option to purchase a SmartSaver Bank of Hours. The new feature allows industry professionals to save time and money by purchasing 15 or 30 CE hours up front and choosing their courses at a later date to meet both learning interests and renewal requirements.
The SmartSaver Bank of Hours solution delivers the quality training RedVector users have come to expect, along with the freedom and flexibility to choose when they learn and which courses they need. Here's how it works:

Purchase Today. Users purchase a SmartSaver Bank of Hours in one of two convenient "banks" of 15 or 30 hours.
Choose Courses at Any Time. At their convenience, they can browse RedVector's robust online course library of more than 1,100 titles and choose the interactive courses that meet their unique needs and interests.
Enjoy Easy 24/7 Access: When ready, users can quickly and easily log in to their accounts and use the "Enroll in Courses" tool to draw from their course hour banks.
Two options—Level 1 and Level 2—allow professionals to choose courses either from RedVector's fundamental course library or the entire library of titles.
"We know our clients are very busy and we're always looking for ways to make them rest a little easier when it comes to ensuring their education needs are taken care of," said Victoria Zambito, president of RedVector's business to professional (B2P) unit. "Our SmartSaver Bank of Hours provides them with the confidence that they are taking care of their requirements, as well as the convenience of coming back on their own time to browse our course library and choose just the right courses."
About RedVector
RedVector sets the standard for excellence in online continuing education and training for the architecture, engineering and construction (AEC) industry and holds more than 60 state and national accreditations. Through our award-winning Learning and Performance Engine (our version of an LMS) we offer individual courses as well as large-scale corporate training solutions for AEC firms featuring customizable and easily accessible online universities with a full range of tracking and reporting features. With an online library exceeding 1,100 courses authored by more than 100 subject matter experts, RedVector serves more than 130,000 AEC professionals in all 50 states. The recipient of numerous community honors and industry awards, RedVector was founded in 1999 and is headquartered in Tampa, Florida. For further information call 1-866-546-1212 or visit http://www.RedVector.com.