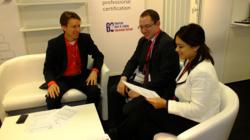 "In our markets where English is not the main language, LinguaTV will greatly benefit the hospitality industry by using accessible and entertaining online learning modules to teach employees how to communicate with English-speaking guests."
Orlando, FL (PRWEB) June 07, 2013
The American Hotel & Lodging Educational Institute (EI) is partnering with German-based LinguaTV to offer its "English for Hotel and Tourism Professionals" online training programs to its global hospitality clients. The industry-specific course is designed to develop listening, speaking, reading, and writing skills by focusing on realistic and entertaining hospitality-oriented scenarios.
The online program consists of 20 lectures, each focusing on a particular hospitality situation (such as making a reservation or recommending tourist attractions), featuring a brief video segment and a variety of interactive exercises to test listening comprehension, vocabulary, and grammar. The program is geared toward lower-intermediate to intermediate level English speakers who are employed in, or planning a career in, hospitality and tourism.
"EI is thrilled to partner with LinguaTV to introduce our global customers to this innovative learning tool for hospitality employees," said Robert L. Steele III, CHA, EI president and COO. "In our markets where English is not the main language, LinguaTV will greatly benefit the hospitality industry by using accessible and entertaining online learning modules to teach employees how to communicate with English-speaking guests."
"We are very happy about EI representing LinguaTV.com worldwide and thus creating the perfect link between our online language training and the international hotel and tourism industry," said Philip Gienandt, CEO of LinguaTV.
LinguaTV was recently awarded the 'Best of 2013' Innovation Award within the categories 'E-LEARNING' and 'MOBILE APPS' for the brilliantly effective web-based training system http://www.linguatv.com and its online video language course "English for Hotel and Tourism Professionals." Since 2004, this prestigious German award for Innovation had been awarded to highly beneficial and effective new services for small and mid-sized organizations.
EI customers can sample LinguaTV demos on EI's website; however, ordering is directly through LinguaTV. The program is sold on a subscription basis (three months, six months, or 12 months) and is priced in Euros. For more information, visit http://www.linguatv.com/af/ahlei or contact an EI sales associate at 800.349.0299 or +1. 407.999.8100.
-30-
About the American Hotel & Lodging Educational Institute
Established in 1953 as a nonprofit educational foundation of the American Hotel & Lodging Association, the Educational Institute's mission is to continue being the preferred provider to the lodging industry, hospitality schools, and related hospitality industries by developing and providing quality resources to train, educate, and certify hospitality professionals worldwide.