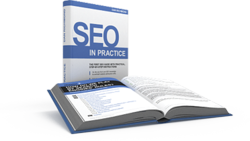 The underlying message of this book is that the main thing in SEO is practice. And it is doing SEO that drives your site up, not learning it. With SEO in Practice, you'll be doing SEO from the very first minute
Minsk, Belarus (PRWEB) June 06, 2013
Link-Assistant.Com, a major SEO and social media software provider and the company behind SEO PowerSuite and BuzzBundle, announced today the release of the 2nd edition of their famous SEO book, SEO in Practice. The book is targeted at novice SEOs, who want to do SEO from the first minute rather than learn it.
*What is SEO?*
SEO, search engine optimization, is the art and craft of making websites visible in organic search results. Google and other search engines use advanced algorithms to decide which websites answer users' search queries best. Therefore, a site that is a better match according to these algorithms shows up highest in organic search. The higher a site rank, the more visitors and revenue it gets.
"SEO in Practice was first published in 2009, and to date it continues to be very popular with SEOs who are just dipping their toes in the search world and want to make sure they get a no-nonsense practical guidance," says Viktar Khamianok, CEO, Link-Assistant.Com.
"Search engine optimization is a controversial industry: on the one hand, it's based on a dozen of unchangeable principles, on the other hand, it is extremely fast-paced. There've been lots of changes for the 4 years that passed since the first edition, and all of them found reflection in SEO in Practice 2013," continues Viktar.
"Still, the underlying message is the same: the main thing in SEO is practice. And it is doing SEO that drives your site up, not learning it. With SEO in Practice, you'll be doing SEO from the very first minute," sums up Link-Assistant.Com's CEO.
*SEO in Practice pricing and special offer*
SEO in Practice is available for sale at $21.70 at the official site and via Amazon. As a special bonus in June only, all licensed SEO PowerSuite users can get SEO PowerSuite at no cost. Those who don't have SEO PowerSuite license yet, can get one here.
Keen on internet marketing software? Say hello to Link-Assistant.Com on Facebook fb.me/LinkAssistant, Twitter @LinkAssistant or Google Plus gplus.to/LinkAssistant.
About Link-Assistant.Com
Started in 2005, Link-Assistant.Com is the software house, focused on creating software for bloggers, online marketers and social media enthusiasts. The company's products include 1. SEO PowerSuite (all-in-one desktop SEO software) and 2. BuzzBundle (desktop social media management app). To be in the know of Link-Assistant.Com's news, read the company's SEO blog.