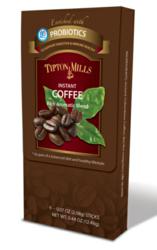 We spent a good deal of time looking at the breadth of the partnership, the science behind the ingredients and the consumer market response.
Cleveland, OH (PRWEB) June 06, 2013
Ganeden Biotech and Tipton Mills' Probiotic Coffee was awarded the inaugural SupplySide Insights Award for Probiotic Coffee at the recent SupplySide MarketPlace in New York.
"Selecting the winning partnerships honored in our inaugural SupplySide Insights Awards program was a great challenge, as the finalists in all three categories represented quite innovative and successful finished products that were born out of a desire to work synergistically in product development," said Heather Granato, vice president, content, VIRGO's SupplySide Health & Nutrition Network. "We spent a good deal of time looking at the breadth of the partnership, the science behind the ingredients and the consumer market response."
The Tipton Mills private label and direct-to-consumer instant probiotic coffees feature Ganeden Biotech's unique, patented probiotic, GanedenBC30, that can survive heat, cold and other conditions that destroy most probiotics, making a warm probiotic beverage possible.
Since its tremendously successful launch at the last Fancy Food Show, Tipton Mills now offers Ganeden's probiotic ingredient, GanedenBC30, for its entire Tipton Mills beverage product offerings including instant coffees, chai lattes, lattes, cappuccinos, teas in various flavors, and even high protein shakes and smoothies. These products are available as stick packs and vertical or horizontal fill and seal packages.
According to the National Coffee Association, Americans drink an average of 3.1 cups of coffee a day per person (the average size of a cup is 9 ounces), while the U.S. spends $40 billion on coffee each year.
"We love to see our partner products win awards; it demonstrates that the market is ready for innovative probiotic-boosted products," said Mike Bush, Ganeden's vice president. "None of this would be possible without our partner Ganeden and their extensive research efforts in developing an outstanding and groundbreaking ingredient to enhance our hot and cold beverages," said Tim Sheehy, Tipton Mills President.
###
About GanedenBC30:
Ganeden Biotech's leading probiotic, GanedenBC30 (Bacillus coagulans GBI-30, 6086), is a patented, organism that can be found in more than 60 leading food, beverage and companion animal products throughout the world. Unlike most other probiotic strains used in food and beverages, GanedenBC30 is highly stable and can remain viable through processing, shelf life and the low pH of stomach acid. The efficacy of GanedenBC30 is backed by 17 published studies. GanedenBC30 has an exceptional safety record and FDA GRAS status from the United States Food and Drug Administration. For more information, please visit GanedenBC30.com.
About Ganeden Biotech:
Founded in 1997 the Cleveland, Ohio-based Ganeden Biotech is at the forefront of probiotic research and product development with an extensive library of published studies and more than 100 patents for probiotic technologies for the food, beverage, animal health, and now personal care ingredients markets. Ganeden is best known for GanedenBC30 (Bacillus coagulans GBI-30, 6086), its patented, FDA GRAS probiotic ingredient found in more than 60 leading food and beverage products. A highly stable probiotic ingredient with physical properties that make it more stable than traditional probiotic organisms (such as Lactobacillus and Bifidobacterium); GanedenBC30 is ideally suited for almost any food, beverage or companion animal application. Ganeden's newest ingredient, Bonicel, is the first science-backed, probiotic-derived, personal care ingredient shown to dramatically reduce signs of aging. It can easily be incorporated in virtually any lotion, cream, soap, shampoo or other personal care product. Ganeden is more than an ingredient supplier; Ganeden works with its clients as a partner, taking special care to add value from initial contact to product launch and beyond. For more information about Ganeden Biotech and licensing opportunities visit GanedenBiotech.com.