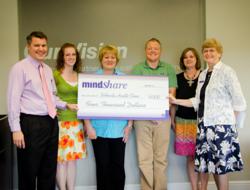 TYLER, TX (PRWEB) June 06, 2013
The employees of Mentoring Minds have a spirit to serve and share. It's more than just part of a mission statement or policy; it's actually part of the Mentoring Minds' ethos. Because of a shared passion for helping others, Mentoring Minds created a program for service called MindSHARE. MindSHARE encourages the team at Mentoring Minds to be active members and volunteers in the community. Employee-nominated organizations are evaluated by the employee-based MindSHARE committee on several factors such as employee involvement and organizational reach. MindSHARE will continue this tradition of selecting and awarding funds to non-profit organizations quarterly up to $20,000 a year.
An award was given on Wednesday, June 5, to Bethesda Health Clinic in the amount of $4,000. Having recently expanded their community health and nutrition education program to the summer and fall, this additional funding will impact as many as 500 people by assisting in the purchase of materials and supplies for the program.
Tyler ISD Foundation also received an award in the amount of $1,000 for their Teacher Incentive Grants Project. Connie Moore, Educational Consultant for Product Development, nominated the organization for this award. During Connie's tenure as principal at Andy Woods Elementary School in Tyler, Texas, she observed many of her teachers apply for and receive grants. These grants allow teachers to have access to innovative materials and programs that promote and enhance student learning, things not always covered in the regular school budget.
Mentoring Minds is a national educational publisher that has been serving students, educators and administrators for ten years. Their mission and commitment is to develop quality educational materials that encourage children to think critically for effective problem solving in and outside the classroom. Equipped with many years of educational experience, Mentoring Mind's product development team creates materials that address relevant issues in the classroom such as critical thinking, vocabulary development, bullying, classroom management, and accommodations for students with special instructional needs. Mentoring Minds was recently named one of the best places to work in Texas for the second consecutive year. For more information about Mentoring Minds, visit http://www.mentoringminds.com.
###