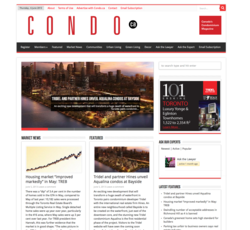 Canada's greenest home was built with virtually no construction waste, uses zero fossil fuels, produces no sewage output and generates its own electricity
Toronto, Ontario (PRWEB) June 06, 2013
This week's Condo.ca, the condominium magazine, reports that Toronto's realtors are optimistic about the market: sales are off from last year's, but the declines are slight and the price increases are healthy. That's not necessarily the way the OECD sees it, warning that an interest rate correction or economic downturn could have serious consequences. And a group of students have built what they are calling Canada's greenest house, with net-zero energy consumption and carbon emissions. It generates enough electricity through solar panels to earn the occupants several thousand dollars. Everything is recycled, even the bathroom waste. And Chinese residents have finally got their way and had the unlucky number 4 banned from street addresses in Richmond Hill. Read these and other stories at Condo.ca.
"Housing market improved markedly in May: TREB"
Though the total number of homes sold in the GTA dipped by 3.4 per cent compared to May 2012, in some categories sales were up. Single detached and semi-detached homes, especially in the city of Toronto (416 area) rose 3 per cent over last year. According to the Toronto Real Estate Board's president, the decline in sales year over year was much smaller than in previous months, indicating marked improvement in the market. But a statement from the Organization for Economic Cooperation and Development came out at the same time, saying that Canada's real estate market is overvalued, and thus in danger. Read more...
"Canada's greenest home sets high standard for builders"
A house built as a student project has met the challenges set for its builders and is on track for LEED Platinum certification. It was built with virtually no construction waste, uses zero fossil fuels, produces no sewage output and generates its own electricity. And this net-zero energy home was built using mostly locally sourced materials that could easily be duplicated by the average builder. Solar panels on the roof will generate more than enough power for the home, and the occupants are expected to be able to sell the excess electricity for $3,500–$4,000 a year. Even bathroom waste is composted, after going through a super-efficient toilet. Read more about the amazing house here...
"Dwindling number of acceptable addresses in Richmond Hill as 4 is banned"
When a number is unlucky, no one wants it on their front door. In the case of the number 4, which is almost literally the number of death (in Chinese it sounds like the word for that condition) it can mean the difference between being able to sell one's house and not. And so, bowing to pressure from the sizable Chinese community in their town, the councilors of Richmond Hill voted to ban the number 4 from future addresses. The vote came in at 5 to 4. It now joins the number 13 in the group of shunned numbers. Read more...
About Condo.ca
Condoa.ca is all about living and lifestyle. Thousands of subscribers and readers rely on Condo.ca's in-depth coverage of the condominium scene and urban living each week. Condo.ca is committed to following and discussing the trends: urban lifestyle, design and neighborhoods, with a special focus on inspiration. Our daily news beats include:

Market News: daily news with a focus on real estate, finance and the marketplace.
Green Living: environment-friendly stories, latest technologies, and tips and how tos.
Urban Living: features on the downtown scene.
Decor and Design: interior design tips, how-tos and features
Communities and Condominiums: our coverage of new communities coming into the market.
Great Toronto Scene: special coverage of the GTA scene.
Ask the Expert: you ask your questions, related to condos, we try to find an expert to answer you.
Ask the Lawyer : you ask your legal-oriented questions, we try to find a lawyer to answer.
Ask the Designer: Stella Salvadore, interior designer, answers your design questions (please be sure to post pictures!)
Condo.ca is published by Zines Online and Tridel Corp, a service of Persona Corp.