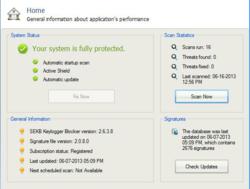 Securencrypt Security Products can protect you from Financial Loss, Identity Theft, Damage to your Reputation, and Embarrassment.
Jackson, MI (PRWEB) June 19, 2013
SE Keylogger Blocker gives users the ability to detect and remove Keyloggers from their PC or Laptop. Keyloggers are potentially dangerous programs that can be used to track the user's activities and potentially steal personal information from their systems. They are invisible programs that run silently without the user's knowledge.
Keyloggers are most dangerous when used by a hacker wanting to steal passwords, credit card numbers or other confidential information. They can then choose to sell this information to third parties who may then use the credit cards or transfer money out of the bank accounts. Hackers can do this because they have the ability to record every keystroke typed on the keyboard like a thief watching over your back. Users will have no idea what is going on because nothing will appear out of sorts. Your system will run as usual without any disruptions in processing or speed.
Keylogger Blocker works as a great addition to the already available Securencrypt Privacy Compliant products, like SE File and Folder for file encryption on your computer, server and in the cloud, SE Mail for email encryption and SE Mobile for SMS and email encryption on your mobile device. The Securencrypt suite features a unique four-layer remote authentication process that literally makes it the most secure encryption product available on the market. While the software resides on the user's PC, the application's encryption keys, user IDs and passwords do not. They are stored in the Securencrypt cloud, which means that intruders will not be able to locate and crack the credentials for the device.
Moreover, the Securencrypt suite is easy to install and use - simply download the application, create a new user account and start using the products. For more details, please visit the official website: http://www.securencrypt.com.
You can try Keylogger Blocker for free with no limitations to the product features for a period of time of 30 days, after which the product is available for as little as 19.95 USD per year.
To celebrate this event Securencrypt decided to offer a limited time sale for all their security products. So during checkout just fill in the coupon code using the text "se2013", click apply and your cart total will be reduced by 50 percent.
In depth information on Keylogger Blocker is available at:
http://securencrypt.com/keylogger-blocker/
About Securencrypt LLC
Securencrypt provides the leading encryption technology for e-mail, mobile devices, documents, and file encryption using a patented Remote Authentication process that eliminates the risk of password theft. The software, Securencrypt, is a direct add-on to Microsoft Office and has "single click" functionality. In addition to the core PC product, Securencrypt has also been developed for all major mobile PC systems including Blackberry and Android (Google).
Securencrypt is focused on producing innovative security software solutions for business and personal use. The Securencrypt line includes the most secure and easy to use File & Folder, E-mail, and Mobile encryption products ever invented.
To download the Securencrypt products, follow this link: http://securencrypt.com/file-sms-email-protection-encryption-free-trials/